It's that time of year again - where we survey the food we've eaten, the drinks we've imbibed, the stories we've written and the trends we've watched over the past year. So here's our pick of the things that have really stood out for us in 2012.
Most enduring trend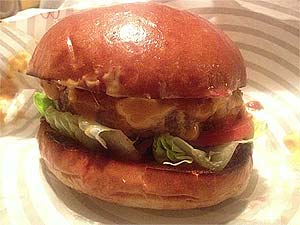 Burgers
It's been one hell of a year for trends in London food this year. We've seen the explosion of the street food scene, ramen galore and the rise of dirty food with fried chicken getting a particularly big mention. But of all the trends, one has survived them all and that's the not-so-humble burger. 2011 ended with the launch of MEATliquor and 2012 wraps up with the launch of MEATmission. But this year they have some competition with Patty & Bun, Tommi's, Honest Burgers and more all fighting for the hearts of burger lovers.
And with Shack Shack and Five Guys on the horizon for London in 2013, the burger boom isn't slowing down any time soon.
Most eye-popping dining room
Mari Vanna
This Russian restaurant in Knightsbridge serves wonderful comfort food, but it's the room itself which has you wanting to come back for more. Set-designed like a Russian home (pre-Perestroika) knick-knacks take up every free space available. And they have some of the maddest loos we've ever seen in a restaurant.
Honorable mention: Brasserie Zedel
It's quite something to take over such a huge, iconic space in Piccadilly, but even more so to create such an amazing room that still has the stamp of Corbin and King all over it. Truly a jaw-dropping space and a must-visit.
Buzziest dining room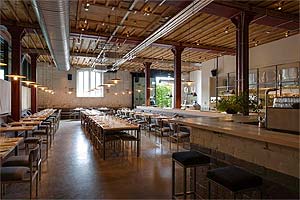 Caravan King's Cross
It's always a risk to take on a huge, brand-new dining room and given Caravan's original cosy home on Exmouth Market, Chris Ammerman, Miles Kirby and their partners took a real gamble that happily paid off. From the roastery at the back to the bar and restaurant, this place hums with activity and the sound of people having a good time (and spending money). We hear the place is rammed for weekend brunch and we're not surprised.
Caravan is a good-time place to come where the welcome is always warm, the food good and the coffee outstanding. (Disclaimer - we know the pic on the right doesn't look buzzy, but it's all we had - you'll have to use your imagination...)
Dish we'd happily eat every day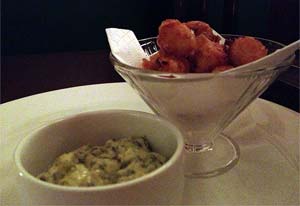 The queenies at Hawksmoor Air Street

Hawksmoor get this prize for the second year running as they continue to create things that we'd eat forever if budget or circumstances allowed. This year, they win with their fried queenie scallops from their latest restaurant at Air Street.
They're a great starter and an almost perfect bar snack, coming with the best tartare sauce that we've ever had. All round bloody marvellous in fact.
The dish everyone's talking about
There's really no competition for this one, as Ben Spalding's creation at the John Salt has had everyone talking about it (not to mention posting pics of themselves on Twitter licking said brick). In essence it's a London house brick topped with brittle caramel and then a layer of chicken "cream" which you are encouraged to lick off.
There are those who say it has an emperor's clothes feel to it as everyone in the dining room has a go, but we think it's closer to the theatricality of the Fat Duck than a big joke on hipster foodies.
The place we can't keep away from
When people ask us where we eat out more often, the honest truth is that we're so busy trying new places, it's rare that we get to make return visits. That said, this year the restaurant right at the top of the Heron Tower was the one that we ended up returning to again and again, mainly for the amazingly good-value breakfast alongside one of the most stunning views in London. We'd have gone back even more often for the crispy pig ears in the evening were it not for a wine list that defines the word punchy. But if you lay off the booze, Duck & Waffle is well worth the trip.
Indeed, if we're being honest, we'd happily just ride in the Heron Tower lifts all day long. Yes, we know the view at the top is spectacular, but the lifts are AWESOME.
Honorable mentions: MEATMarket & Dirty Burger

MEATmarket is mainly for their amazing shakes and a decent burger that we never have to queue for and Dirty Burger for singlehandedly making Kentish Town a half-decent place to eat.
Most improved London postcode for dining out
N1
This one is quite gratifying as both @hotdinners and @hotdinners2 live in Islington which, after a heyday about 15-20 years ago (think Granita and the Blair/Brown showdown ) became a place where the odd rare gem (Trullo, Draper's Arms, Morgan M) only served to highlight a high street littered with chains. But this year has seen a mighty resurgence of the area, with the opening of the John Salt, House of Wolf (pictured on the right), Pig & Butcher, Blacksmith & Toffeemaker, Assiette Anglaise and the recently launched Naamyaa cafe from Alan Yau.
With smaller places like Pipsdish doing well too, alongside special events like the successful Christmas Feast and the Taproom pop-up, Islington has once more become a destination for people seeking new and interesting food. Hallelujah!
Friendliest front of house staff
The Clove Club
Generally speaking, London's front of house service just gets better and better, but it's a visit to anything managed by the Clove Club that has that special touch. Daniel and Johnny are always going on about the "vibes" of the place at Upstairs at… but we have to admit they're the ones helping create that impossible to bottle atmosphere. Plus they always have an amazing playlist.
We're expecting great things from their eponymous launch at Shoreditch Town Hall next year.
Honorable mention: Hawksmoor
Staff here may sometimes be confused for trendy diners, but we think they're universally lovely, particularly when faced with the demands of such a huge room. We had brilliant service here on the first evening they opened – a testament to their training programme.
Prettiest thing on a plate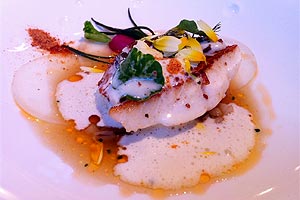 Pretty much everything at The Ledbury
We finally managed to visit what is many Londoners' favourite restaurant this year (yes, yes – we know how rubbish that is) and we can now see that the hype matches the experience. Dish after dish was beautifully arranged and delicious to eat.
One of our highlight meals of the year.
Most surreal moment
Jamie Oliver pulling late night pints for us in Covent Garden
The launch of Union Jacks in Covent Garden was one of the most fun things we've been to this year. Both for being served pizzas in a glass restaurant surrounded by hundreds of Jamie lovers who looked ready to storm the walls for their hero, and then carrying on late into the night as the man himself served us pints downstairs.
We know he comes in for a lot of stick, but he charmed everyone (while being VERY sweary) and we loved the beer.
Best street food
We've eaten A LOT of great food in London's markets and streets this year, from the genuinely ground-breaking Stripped Back at Broadway Market to the pillowy pork rolls of Yum Bun. But our favourite street food this year was from Pizzas Pilgrims.
Strictly speaking it was at their short-lived Shoreditch rooftop pop-up Forzawin, but oh – that chewy crust and searing hot stringy cheese <sinks into pizza reverie>.
Best Bar
The day after we'd spent a happy evening working our way through the bar menu, the Artesian was voted World's Best Bar by Drinks International magazine. Our first visit here was presided over by mixologist Alex Kratena who talked us through his signature martinis and charmed us completely. Add to that the fact that free plates of nibbles arrive every evening around 7pm and you have a bar we can't get enough of.
Honorable mention: QV Bar
2012 was also the year we became members of a club for the first time. We may be breaking all protocol by saying so, but QV Club above Quo Vadis is a haven from Soho madness. The bar snacks come from Jeremy Lee's kitchen and the cocktails are legendary.
Best out of town experience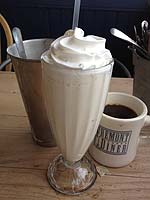 Fremont Diner in Sonoma
We've had a pretty good year on the travel front but the highlight was without doubt our three-centre US trip to Vegas, Sonoma and San Francisco in the Spring. As you might imagine, we left nothing to chance and researched our trip with barely a meal unplanned – but by far and away our best meal was in a reconstructed diner just outside Sonoma – the Fremont Diner. Breakfast here was a freshly baked buttermilk scone topped with crispy bacon and waffles with deep-fried chicken and maple syrup. There were bottomless cups of strong coffee (oh and salted caramel milkshakes). If we could have picked it up and brought it back, weatherbeaten board by board to London we would have.
By contrast our much-anticipated lunch visit to Alice Waters' Chez Panisse on the same trip was lovely but not such a memory-searing experience.
Year's best eating out experience
It's not a new restaurant and we'd taken our own sweet time about getting round to trying Stevie Parle's Kensal Rise restaurant, but our meal here was definitely worth the wait.
From the cheery, informed front of house to the food itself, our dinner here was about as close to perfection as we've had this year. We loved that there were loads of things we'd never tried before (anyone else getting bored of being served up assemblies of well-sourced ingredients – we could do that ourselves after any trip to Maltby Street). The chicken livers cooked in seven spice and pomegranate molasses, the deep fried courgettes with almond skordaila and the Lamb Biryani with rose petals are all dishes that have stayed fresh in our minds months later..
Honorable mention: Donostia
We loved Donostia too, both sitting at the counter and not, this gave us some of the best pluma and the best tortilla we've had this year. It's a place with great buzz and we'll definitely be back.
And the personal favourites from the Hot Dinners team this year were as follows:
Catherine Hanly (Editor)
"My dinner at Greg Malouf at Petersham Nurseries was on a freezing cold night with torrential rain in April and I still thought it the most magical place. We were treated to a series of fantastic dishes culimating in Malouf's trademark duck bistayeea. And with all the meat I've had this year, the seasonal salad here with nasturtiums and pansies was a culinary tonic."
Gavin Hanly (Producer)
"As with last year, it's always a good steak that wins me over and this year, when combined with some fantastic fish from Mitch Tonks and the best service, Hawksmoor Air Street edges ahead. I still want to get my hands on a jar of that tartare sauce that came with the queenies somehow."
Jo Aspin (Writer - @ilovechilli)
"Dabbous – for exquisitely presented, inventive food – who would have thought volcanic ash could taste so good?"
Jade Bousfield (Writer - @jadebousfield)
"I know its only just opened in the last couple of months, but Bone Daddies is currently my addiction - not for comfort or ambiance but purely for addictiveness of the Tantamen 2. Closely followed by Tonkotsu for their addictive broth. I could easily return to these places (and Koya) regularly throughout the week if my budgets allowed and never get bored."
Rebecca Brett (Writer - @hungrybecs)
"My favourite restaurant of the year is Rita's - chilled out vibe, potent drinks and incredible soul food made for sharing, even though you probably won't want to. Stand out dishes included spicy mac 'n' cheese, fried chicken roll and soy and ginger hot wings."
Louis Fernando (Writer - @tuckandvine)
"My favourite restaurant this year isn't really a restaurant at all. At 'Stripped Back', Ben Spalding showed us that top quality cuisine could indeed be served in the most casual of environments, in this case, a schoolyard in Hackney. The menu was constantly changing and the concept continually evolving and growing making it worthy of multiple visits."
Helen Jones (Writer - @hjonesy)
"On the cusp of becoming so popular you won't be able to get in there soon, Bone Daddies serves up some of the most delicious ramen you can find in London. Their delectable small bites are not to be missed either with fried chicken pieces so addictive they'll no doubt end up with a controlled substance classification."
Zeren Wilson (Writer - @bittenwritten)
"Tonkotsu has become one of my most visited restaurants this year. A whole lotta love has gone into those long simmering stock pots crammed with pork and chicken bones, and the richly textured Tonkotsu has revived and restored me every time. The karaage fried chicken is among the best in London, the gyoza dumplings are excellent, and the Asahi on draught is always pristine. An honourable mention to Bone Daddies who very recently added another great ramen bolt hole in Soho to dive into."
What would you have chosen as your best meal of 2012? Let us know in the comments below or on Twitter and Facebook.