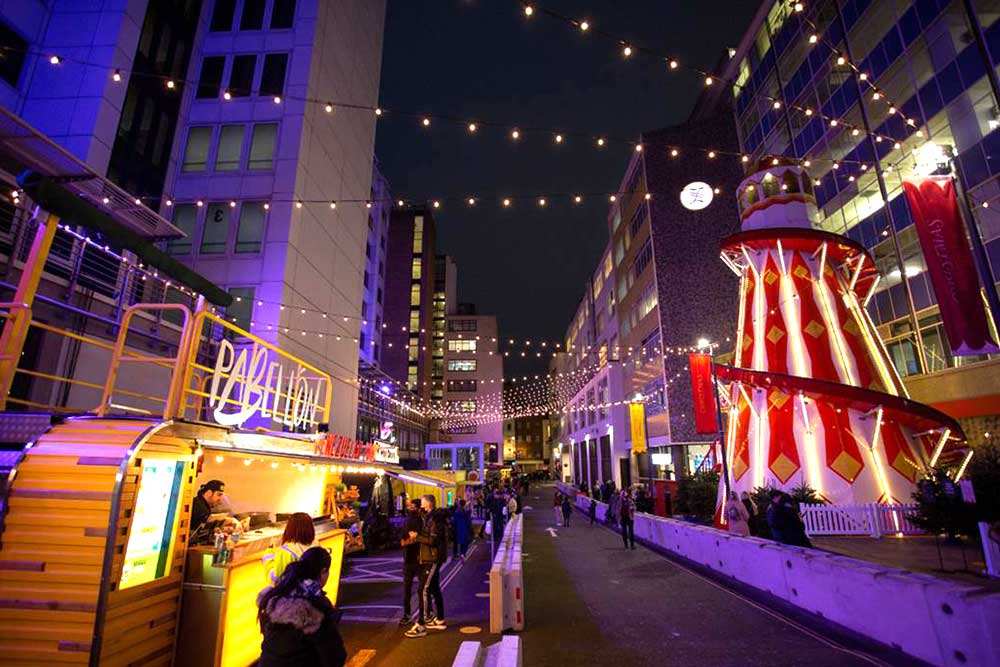 Having been closed all over Black Friday weekend (not to mention the whole of the last month) London's stores are hoping to make up for lost time by enticing us into the West End when they reopen this week. For Selfridges' part, they're redesigning the mews market they first opened back in the summer, making it a very festive market indeed.
The market, which takes over Edwards Mews at the rear of the store, is going to be bigger than before, combining street food along with retail stalls and even fairground rides for a very Christmassy feel.
Selfridges have teamed up with the founder of Street Feast, Dominic Cools-Lartigue, to make sure the food and drink offering is as on point as it should be, with various food trucks joining the winter line-up.
Here's who will be trading there
Tramshed Project - Chefs Andrew Clarke and Daniel Watkins will be serving burgers and BBQ
Fundi Pizza – Neapolitan style pizzas
Cheese Wheel - Fresh pasta made in a giant 40kg wheel of Grana Padano
Pop Dogs - plant based hot dogs inspired by a variety of international cuisines
Pabellon – Venezuelan traders serving dishes like Arepa filled corn bread with a range of slow cooked meat and vegan options.
Gully - North Indian street food
Only Jerkin - fried chicken and jerk gravy.
Choco Fruit – Fruit drizzled in chocolate and covered in your choice of toppings
Ask Mummy Daddy – Traditional and vegan pick and mix sweets.
Sicilian Goods - Italian Christmas sweet treats
Selfridges Selection - Confectionery and festive foods from Selfridges' own label food range and brands from the Foodhall - so you can buy panettones, Christmas pudding, gingerbread, lebkuchen and stollen.
For drinks, you'll be able to order from a roaming drinks cart serving up mulled wine, hot buttered rums and warm apple ciders and there'll be a bar stocked by Field Vision.
Alongside all that you'll be able to get Christmas ready and buy Christmas trees from Moyses Stevens, wreaths, decorations along with gifts and toys. The whole thing will be festooned with lights and sounds like it'll completely put you in the mood.
More about Market on the Mews
Where is it? Edwards Mews, London W1U 1AE
When? Opens 3 December and daily throughout December: 4 – 9pm on weekdays and 12 – 9pm at weekends.
Find out more: Visit their website or follow them on Instagram @selfridgesfood
Subscribe to be the first to get the news from Hot Dinners