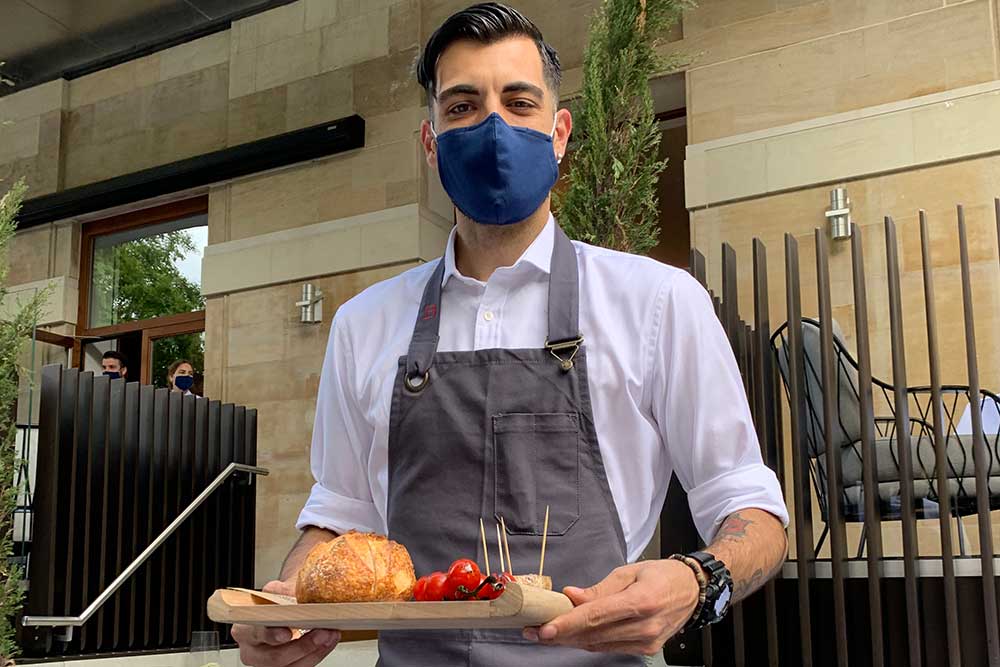 Restaurants are open again! Now you can eat outside and (fingers crossed) from 17 May inside. Can't keep up with all the changes and restrictions? We're here to help. On this page, you'll find the latest rules and regulations about eating and drinking in London, and we'll update it as soon as things change. Which they most certainly will.
When will I be able to go out to a restaurant, pub or bar?
Right now, you can eat and drink alfresco and, soon (17 May), actually eat inside a restaurant.
Here's a breakdown of how things are changing. If we're not 100% sure on some rules, we'll put TBC by them until we are.
12 April (confirmed) - Alfresco dining has reopened
Now you can eat and drink outside London's pubs, bars, restaurants and cafes
The "rule of six" is back - that means up to six people can meet up - or more people as long as they are just from two separate households.
Takeaway alcohol from pubs and restaurants is allowed again
You'll still be asked to check in using the NHS app, and everyone in the party will have to do this.
You also have to have a seat while eating or drinking.
You'll be able to use "the facilities" indoors, but will have to wear a mask
17 May - Drinking and dining inside resumes
The date is to be confirmed on 10 May
From this date, you will be able to eat and drink inside again
Hotels will also be able to open from this date (if you're planning on a UK getaway, here's our guide to foodie hotels).
As before, you'll still need to check in with the NHS app and masks will have to be worn when arriving and when moving about the premises
The rule of six (as above) applies indoors.
Up to 30 people can now meet outdoors
21 June - the free for all
Date to be confirmed on 14 June
From this point, the rule of six and any other restrictions on meeting up will be removed.
Nightclubs will also open
And those dates are confirmed?
Only the 12 April date is confirmed. Each of the dates will be reviewed seven days in advance and if the COVID case numbers are looking good - they'll stay as they are.
What about curfews or rules on having to buy food as well as a drink?
These rules are no longer in place. There will be no curfews. There also won't be any requirements to have food with a drink. Therefore no more debates on whether a scotch egg is a "substantial meal".
And going to the bar?
It's table service only until 21 June at the earliest. There will be exceptions as before, though - table service is not required for places without an alcohol licence - like McDonalds or Pret.
What about masks?
Until 17 June at the earliest, we're going to assume that the only place you don't have to wear a mask inside is when you're seated at your table (or at the bar/counter).
You have to be wearing a mask when you enter and leave the premises - and also whenever you leave your table - e.g. if you need to head to the loo or pop outside for a cigarette/vape while you're there. Essentially, if anyone walks past you (inside) when you're eating and they don't have a mask on - they'd be breaking the rules.
All staff also have to wear a mask too.
Will I need proof of vaccination?
No, that won't be necessary.
Where do these restrictions apply?
Across England.
There may be differences in Wales, Scotland, Northern Ireland - but you'll have to look elsewhere for those. Sorry.
And what if I decide to stay in?
Luckily there are lots of places delivering food and drink across London and nationwide. You can find all those in our Staying In guide.
Anything else?
Not right now, but God knows the rules have changed a lot in the past. As ever, we'll update this page when they do (and also highlight what's changed).
Subscribe to hear the latest from Hot Dinners