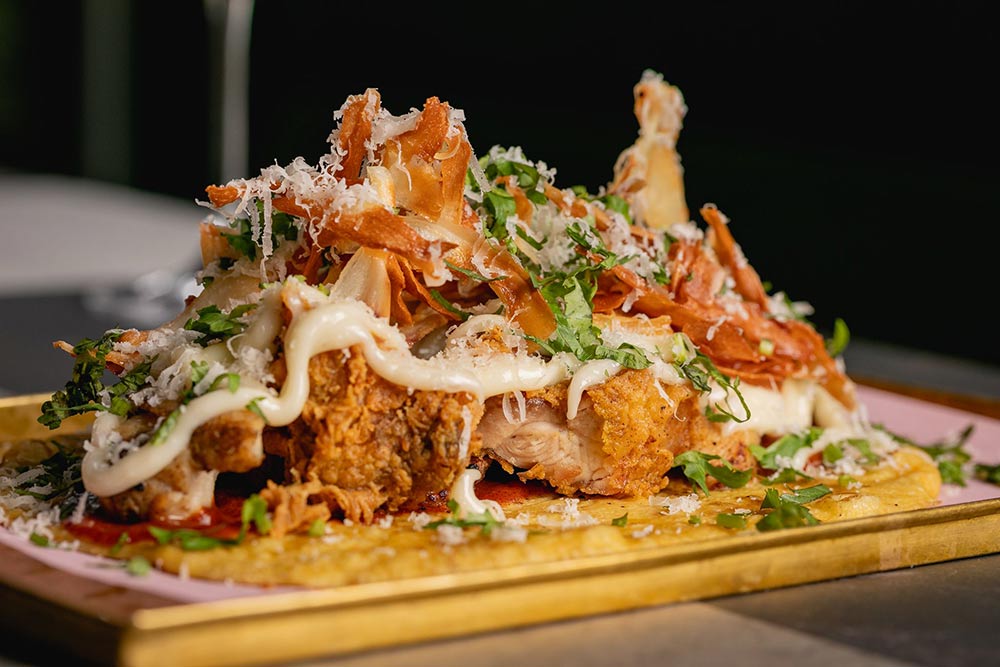 You know things are getting back to a kind of normal when special collaborations appear in restaurants again - and this one should make a trip to Soho or Covent Garden well worth it.
This new creation is from grime artist Big Zuu, who is also a self-taught chef and made his culinary name with a show on Dave, Big Zuu's Big Eats, where he heads all over the country cooking for comedians. He filmed one of the shows at Maison Bab, and now he's back there with a new collaboration.
The special kebab mixes up his Lebanese and Sierra Leonian heritage and love for Italian cuisine to bring you the "fried chicken" shish kebab. It's a BBQ free-range grilled chicken shish and crispy-fried chicken, all under one sourdough naan blanket together with "Salt & vinegar" cassava chips and scotch bonnet BBQ sauce (the Sierra Leonian element), garlic toum (a Lebanese touch) and grated parmesan.
As he says: "This kebab is filled with my energy and enthusiasm, mixed with the beautiful craftmanship and culinary levels of Le Bab. What's a number 1 if you haven't got a number 1 kebab?" and upon trying the kebab said "It looks like art that I can eat". If you're now sold on that - and we are - it'll be available at both LeBab and Maison Bab.
More about Le Bab
Where is the kebab? Available at Le Bab (Top Floor, Kingly Court, Carnaby Street, Soho, W1B 5PW) and Maison Bab (4 Mercer Street, Covent Garden, London, WC2H 9FA)
When is it available? 24 September - 31 October 2020
Find out more: Visit their website or follow them on Instagram @eatlebab and @itsbigzuu.
Subscribe to be the first to get the news from Hot Dinners