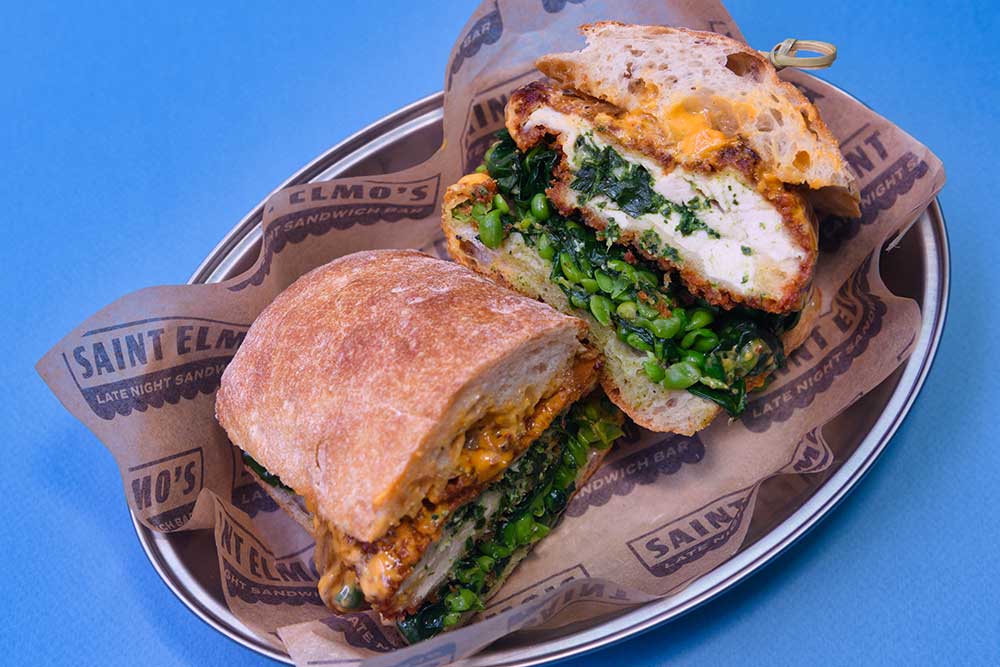 There are two places you can always guarantee queues outside in London - Dishoom and The Breakfast Club. Now the latter, having tied up the breakfast scene, are getting into the late-night market by opening Saint Elmo's (fans of John Hughes movies will get the reference).
Saint Elmo's Late-Night Sandwich Bar will take over their Berwick Street Cafe every day from 5pm. As the name suggests it'll serve up a range of sandwiches which they hope will hit the mark.
It's all a bit retro, so there's a Chicken Kiev Sandwich (above), a riff on Findus Crispy Pancakes which comes with truffle mayo, a fish finger sandwich (below) and the signature sarnie Saint Elmo's Fire is 'your local kebab shop in a sandwich'. Veggies have a doozy in the one which brings mac 'n' cheese, veggie haggis AND chip shop sauce together and vegans have the Delhi Delhi – an Indian inspired creation.
While we wait for an exact opening date for Soho, if you're in Hackney Wick, Battersea, London Bridge, Canary Wharf or Spitalfields, you can already order the sandwiches on Deliveroo.
More about Saint Elmo's Late-Night Sandwich Bar
Where is it? 11 Berwick St, Soho, London W1F 0PL
When? September 2020
Find out more: Visit their website or follow them on Instagram @saint.elmos
Subscribe to be the first to get the news from Hot Dinners