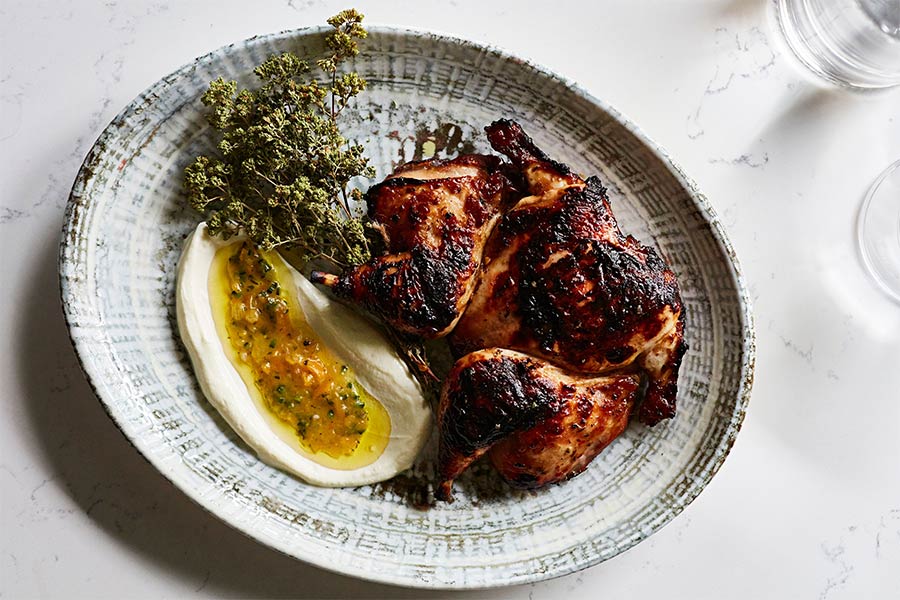 Updated 7/1/20 with soft launch offer
What: Ampéli
In a nutshell: Greek restaurant in Fitzrovia
Summing it all up: Fitzrovia's Charlotte Street may have lost the second outlet of Peruvian restaurant Señor Ceviche but will gain a Greek newcomer in its place. Ampéli is a new Eastern Mediterranean inspired restaurant with a strong focus on Greek wines.
The low-down
If the return of winter has you dreaming of sipping Greek wine on a balmy summer holiday, then we can help you out with at least part of that fantasy. Ampéli, a new restaurant specialising in indigenous Greek wines, is set to open in Fitzrovia.
Athens-born founder Jenny Pagoni has an impressive team on board to help bring her Eastern Mediterranean concept to life, including head chef Oren Goldfeld (previously at Nopi, Brother Marcus, and Tel Aviv-based Toto). Lorraine Abrahams will also join as Front of House, from the esteemed Corbin and King after a decade in management there (previously also at Gordon Ramsay at Claridge's, Caprice Holdings and Rocksalt).
The menu will feature some of Pagoni's family recipes in an Eastern-Mediterranean-influenced line-up and includes:
Feta saganaki with tomato jam
Okra and goat's cheese fritters
Smoked cod's roe dip with lavash crisps
Spiced potato brik with soft egg yolk, brown shrimp and harissa mayo
Herb and Nabulsi sheep's cheese manti
Braised cuttlefish with orzo and Moroccan red pepper sauce
Pan-fried Welsh lamb sweetbreads with Jerusalem mixed spice, served with almond sauce and pickles
Short rib stew with quince and date molasses
And yes, there'll be poppy-seed loukoumades (Greek doughnuts) for dessert, along with a chocolate mahlab mousse with hazelnuts.
And for a restaurant launching specifically on the back of a particular wine region, authenticity is key. Cue Yiannis Karakasis, Greek Master of Wine, drinks writer, and a judge at the 2019 Decanter Wine Awards, who has curated Ampéli's 'Indigenous List' that focuses on both innovative and disruptive producers championing native varietals across the Greek mainland and islands.
Pagoni, who moved to London in 2004, says, "Greek wine is currently undergoing an exciting renaissance so I'm really looking forward to introducing some completely new wines to London. Ampéli will be a place for people to gather and drink something new they might never have tasted, and share dishes that reflect the diversity of the Eastern Mediterranean."
The restaurant opens on the former site of Peruvian restaurant Señor Ceviche (still in action at its original site in Carnaby's Kingly Court) and will serve 80 people across three floors. On ground level, you'll find a wine bar with tables for two and four, there's a sky-lit mezzanine above, and a more intimate space downstairs. There are plans to also feature rotating exhibitions of Greek artists, with the first showcasing watercolourist Leonie de Lange along with Greek sculptor Vasiliki Maliopoulou, who specialises in crafting work from fossils and other materials found on the Greek coast.
More about Ampéli
Where is it? 18 Charlotte Street, Fitzrovia, London W1T 2LZ
When does it open? 10 January 2020
Soft launch offer: 50% off food from 10-14 January
How to book: book online
Find out more: Visit their website or follow them on Instagram @ampeli.london.
Subscribe to be the first to get the news from Hot Dinners