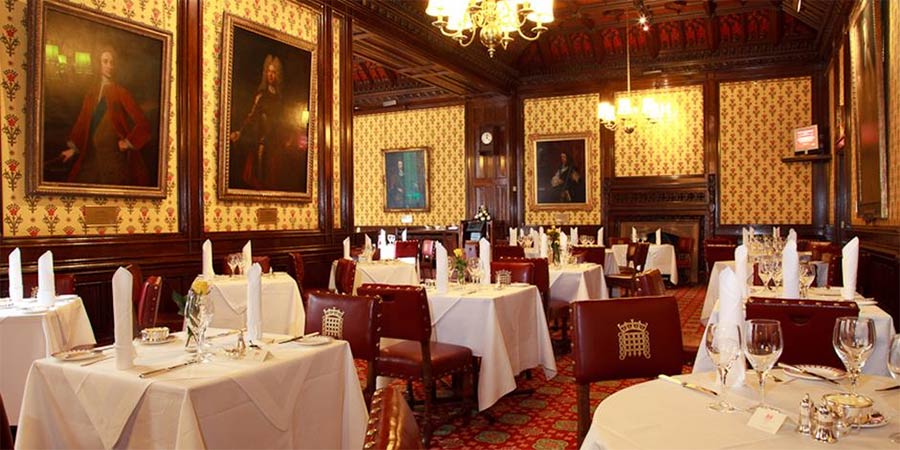 Updated 12/11/19 with new dates
The one joy of parliament closing an impending election is that it means that the Houses of Parliament are closed for a short while - and that means we can try out their fancy restaurant. Yes, the Peers' Dining Room in the House of Lords is once available to book - for a 10 day period only.
So if you want to literally dine like a lord, this is your chance. You can expect their pretty decent three-course Autumn menu (plus coffee and petit fours) but it's really all about the location. And you should definitely arrive a little early and grab a drink in the bar which overlooks the Thames. We've been a couple of times and it's definitely worth it.
Dishes on the lunch menu this year include:
Herefordshire beef broth - with beef tongue, Kent barley risotto, Lincolnshire swede and turnip
Brixham lemon sole - with South coast mussel mousse, coconut, spinach, sweet potato, Norfolk cauliflower
Kentish beetroot ravioli - with Rosary Ash goat's cheese, Lincolnshire parsnip, Wiltshire pumpkin
Plum and Larkswood honey - with crème brûlée tart, pumpkin seeds, rasberry sorbet
So - if you've been meaning to give it a try - here's your chance.
More about the Peers' Dining Room
Where is it? House of Lords, Palace of Westminster, London, United Kingdom, SW1A 0PW
When does it open? From November 12 to December 13 (excluding December 9, 10 and weekends).
How to book: Via their website (booking opens at noon on 6 November)
Subscribe to be the first to get the news from Hot Dinners