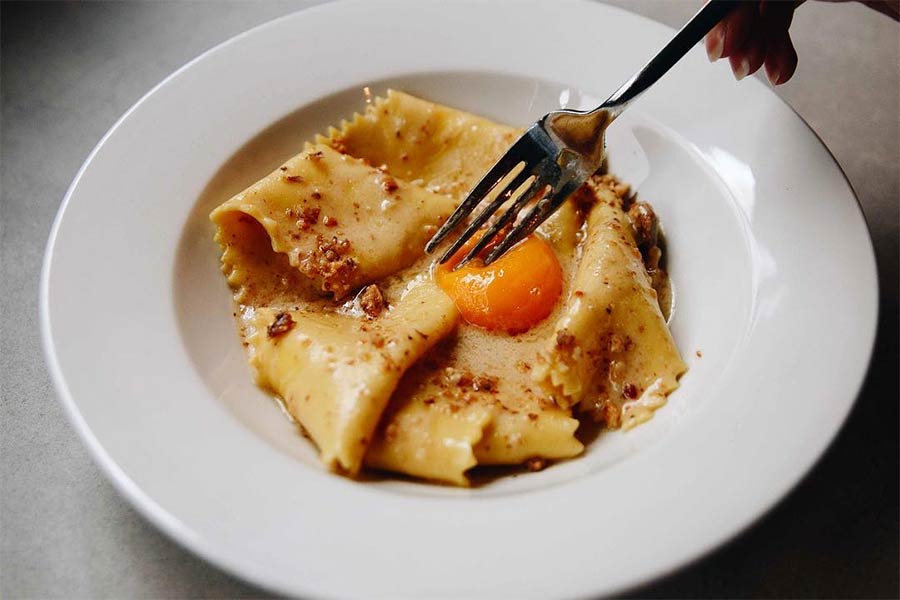 Updated 27/11/19 with the opening date.
What: Bancone Soho
In a nutshell: Pasta bar mark II
Summing it all up: After a big success with the original in Covent Garden, fresh pasta bar Bancone is growing - opening a second restaurant in Soho. Expect classic pasta dishes, a new cocktail bar and more...
The low-down
Yes, London really is in the grip of a pasta boom at the moment. And thankfully, there seems to be no sign of a drop in quality as the latest to join the fray is a second Bancone (which we were impressed with in our Test Drive of the original Covent Garden site).
This time they're heading into Soho, opening on 10 Lower James Street (taking over the location where Foxlow used to be). From the new look space, we can expect new "banconi" (counters) for around 90 people as well as a large basement downstairs with a separate cocktail bar and private dining for around 12-16 people (or you can hire the whole space for private parties).
Now in charge of the menu is Culinary Director Claudio Melis, who won a Michelin star at In Viaggio Ristorante. As far as that menu is concerned, expect some of the favourites from the original site, including their "Silk handkerchiefs with walnut butter and confit egg yolk" as well as regularly changing specials. Here's a taster:
Trucioli 'ondulati' with winter vegetables, cauliflower and truffle
Potato gnocchi with beetroot cream, goat cheese, kale crisps
Spicy pork & n'duja ragù with mafalde
Bucatini with Cornish mussels and seaweed butter
Braised venison ragù with rosemary, garlic and pappardelle
Ox cheek 'mezzaluna' ravioli with port butter and chives
White veal ragù with campanelle and winter truffle
Crispy suckling pig belly, with apple & hazelnut, pickled mustard seeds and Primitivo
Plus they're adding the new "Amaresso Martini" their twist on the classic Espresso Martini, and there will be an extended wine list too.
As for the look of the place - the counter dining will still be a big thing, including a counter that's set around a centrepiece olive tree.
More about Bancone Soho
Where is it? 10 Lower James St, Soho, London W1F 9EL
When does it open? 14 December 2019
Find out more: Visit their website or follow them on Instagram @bancone.pasta.
Subscribe to be the first to get the news from Hot Dinners