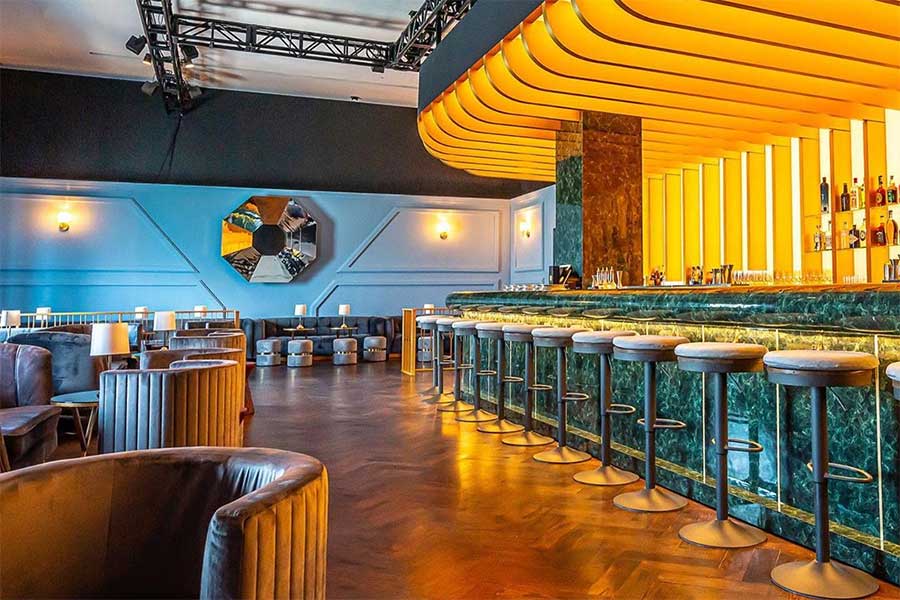 The New York Lyaness experience - without all that lighting stuff at the top you'd honestly think it's the same as...
This bar looks like Lyaness. It serves the same drinks as Lyaness. You can even watch people walking past the window against the backdrop of the Thames. The only thing is that this isn't the London bar Lyaness - it's a faithful replication of the bar 3459 miles away in New York.
It's all part of a PRICELESS emersive experience being created in America by Mastercard. Working with the design collective Spring Studios, they've recreated three bars/restaurants from around the world in SoHo New York, intending to "recreate immersive, multi-sensory experiences from world-renowned chefs and mixologists who are driving what's next in dining and cocktails".
In addition to Lyaness, New Yorkers are also getting to try versions of Zanzibar's The Rock (complete with fabricated sea breeze) and top Japanese sushi restaurant Terazushi all the way from Kitakyushu.
As Lyaness founder Ryan Chetiyawardana explained on Instagram: "Working with the team and the crew at Spring, we've faithfully recreated our beautiful bar down to the tiniest details. Lyaness is always about more than just the drinks (or even the core ingredients at the heart of the experience), so we're so proud to be bringing all the details to life for the New York audience of foodies, cocktail, wine and beer lovers for Summer."
While the drinks menu at the NYC version of Lyaness is an exact replica, seems like the food menu's gone a little upscale from the London bar. Here it's all tacos and sliders, over in New York there's an eye-watering bar snack of caviar with buckwheat blinis, whipped butter, milk chips and chive blossom for Buckwheat Blini, Whipped Butter, Milk Chips, Chive Blossom for $250.
All in all, it looks like a lovely watering hole for homesick Londoners as well as giving Manhattan folk a chance to try the world's best bar's cocktails.
...the actual Lyaness bar here in London.
More about Lyaness in New York
Where is it? 6 St Johns Ln, New York, NY 10013, USA
When? Running now for the next month or so.
How to book: book online
Subscribe to be the first to get the news from Hot Dinners