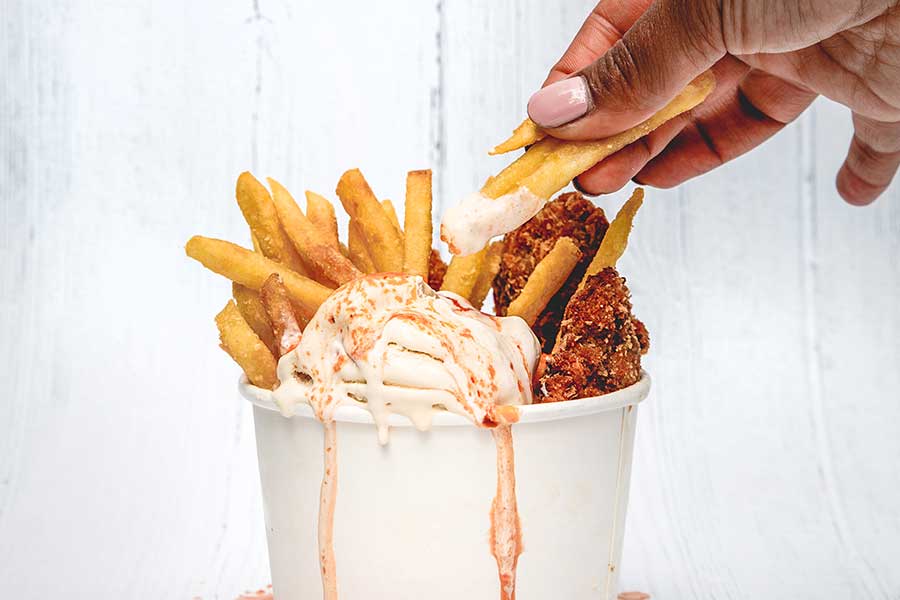 At this time of the year, ice-cream pop-ups are ten a penny in London, but we have to say The House of Ice Cream that opens today in Farringdon has got our attention. The two week pop-up by Fuller's Kitchen, next to The Conductor pub, has been timed to launch ahead of National Ice-cream Day and will be serving up ice cream with a side of chips, chicken and hot sauce.
Choose from two mains - ice cream and fries or with fried chicken, desserts consist of either ice-cream macarons and a build-your-own ice cream station complete with Oreos, Maltesers, gummy bears and more as toppings.
Then - there's the boozy floats consisting of:
Tequila served with blood orange sorbet
Pink gin and raspberry sorbet
Pornstar martini and raspberry sorbet
And - a vegan Bacardi and cola with coconut ice cream
If all that fried food and alcohol sounds a bit - I don't know - unhealthy, then know that all the ice cream being served up is made with Laverstoke Park buffalo milk which is apparently supposed to be particularly good for you.
More about The House of Ice Cream
Where is it? 1 Fleet Pl, Farringdon, London EC4M 7RA
When? 17 July 2019 for two weeks
Find out more: Follow them on Twitter @FullersKitchen
Subscribe to be the first to get the news from Hot Dinners