What: Baba G's
In a nutshell: Indian-inspired street food in a permanent home
Summing it all up: After winning an episode of the BBC's Million Pound Menu, street food legends Baba Gs are finally settling down with their own restaurant in Camden. They'll have their famed burgers and some brand new dishes too.
The low-down
Alec Owen and Liz Selway have been street-food traders as Baba G's for over a decade, so their first permanent restaurant is definitely long overdue. It comes after they recently won an episode of the BBC's Million Pound Menu, getting a 300k investment from Atul Kochhar in the process. That said, this new venture sees them going it alone (with Kochhar and Jamie Barber mentoring them).
As ever, the menu features their Indian-inspired food - much taken from their existing range of Baba G classics. So there will be their Pachos (poppadom nachos), Chicken Tikka Nuggets and the famed Bhangra burgers. TO give you an idea - here are some of those:
Crazy Lamb Jalfrezi Burger - Lamb patty spiced with cumin, coriander and chilli, with onion bhaji, mango pulp and mint cumin raitha served in a black onion seed brioche bun.
Baba's Naga Delihi Burger - Single lamb patty, a crispy onion bhaji and baba's spicy naga chilli burger sauce in a black onion seed brioche bun
Veggie Paneer Saag Burger - A mint, coriander and mehti saag sandwiched between two crispy spiced paneer wedges finished with a tamarind sauce served in a black onion seed brioche bun.
They'll also be adding some new small plates, including Raan Lamb and Achaar Croquettes and Spiralized Celeriac Bhajis. On top of that, there will be a specially created 'Little G's' menu for the kids.
The restaurant will be a 50-Seater in Camden Market, open seven days a week and will apparently have an open butchery area where the burgers will be made from scratch. There will be a large open kitchen, marble counter dining and a shorter menu for takeway (through a hatch).
As for drinks, they'll also be Indian-inspired and spiced using cardamom and chai. There'll also be a cocktail menu focusing on Old Fashioneds and spiced rum.
As for that name, apparently: "Alec met a holy man - or Baba - up a mountain in Northern India who suggested the name Baba G's ('G' representing 'sir' in India)." So there you go.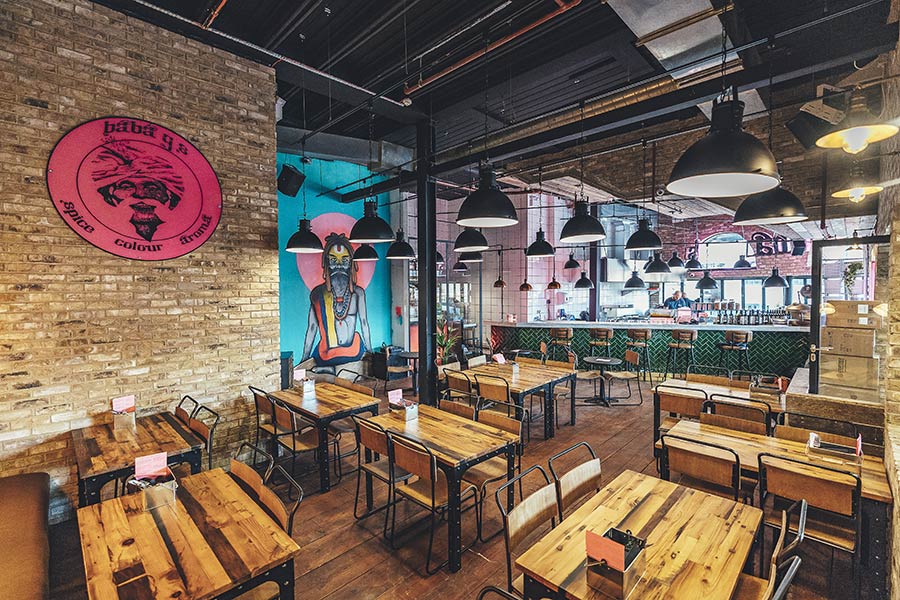 More about Baba G's
Where is it? 726 - 727 Camden Market's North Yard, Camden London NW1 8AH
When does it open? 24 May 2019
Soft launch details: 50% off food, 24-27 May (no bookings).
Find out more: Visit their website or follow them on Twitter @babagsfood.
Subscribe to be the first to get the news from Hot Dinners