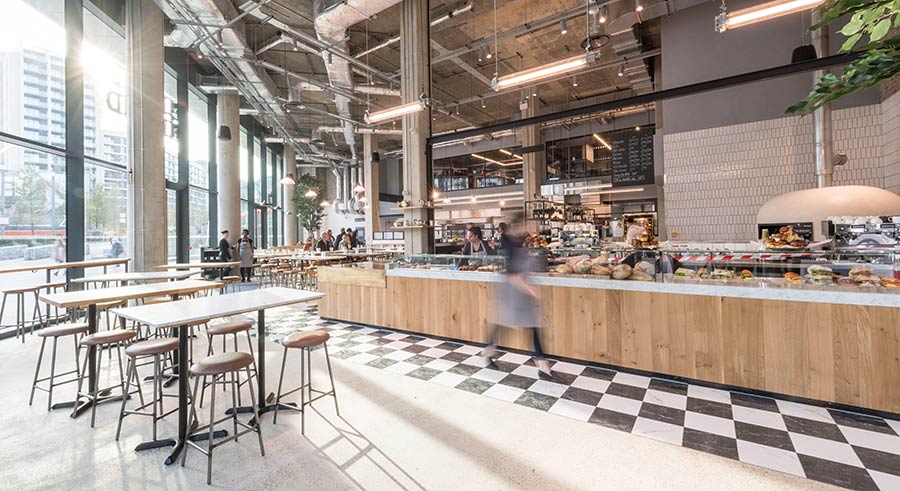 What: Bread Ahead Wembley
In a nutshell: Bakery, restaurant. school and doughnuts in Wembley.
Summing it all up: Bread Ahead are opening a huge new location in Wembley. Their new place has a huge all-day restaurant, bakery and school. And yes, you will be able to get their doughnuts there too...
The low-down
If you're a fan of Bread Ahead doughnuts (and you really should be) then the news that a huge new Bread Ahead cafe and restaurant is on the way should definitely be of interest. Up until now, having originally started as a stall in Borough Market, they've also had the bakery schools in Hackney and Borough as well as a shop in Soho. But this new space is going to dwarf them all.
The Wembley Bread Ahead is very big indeed - meaning that there will be room for 220 to sit down. And because of that - there's a larger all-day menu. First off, they're moving into the pizza business, with sourdough pizzas planned (Margarita Neopolitana, Florentine or Spicy Sausage included). And plenty of sandwiches to take away.
Also on the menu will be "Roast Chicken marinated in sea salt, lemon, thyme and garlic served with baby gem and herb salad, baked buttered potatoes and bread and butter." Had to get the bread in there somewhere...
Desserts include more dishes new to Bread Ahead, including a banana split, baked vanilla cheesecake and a Black Forest gateau (and doughnuts, of course). There will also be a breakfast featuring warm ham and cheese croissants, coddled egg pots with marmite soldiers and, of course, their own pastries
All that and a big bakery school too. Apparently, the new location "boasts two glass-fronted classrooms on the mezzanine floor overlooking the restaurant, giving customers below an insight into the artisan baking workshops". And you'll also be able to join workshops in the main bakery.
More about Bread Ahead Wembley
Where is it? Olympic Way, London, HA9 0FU
When does it open? 18 November 2019
Find out more: Visit their website or follow them on Instagram @Breadaheadbakery.
Subscribe to be the first to get the news from Hot Dinners