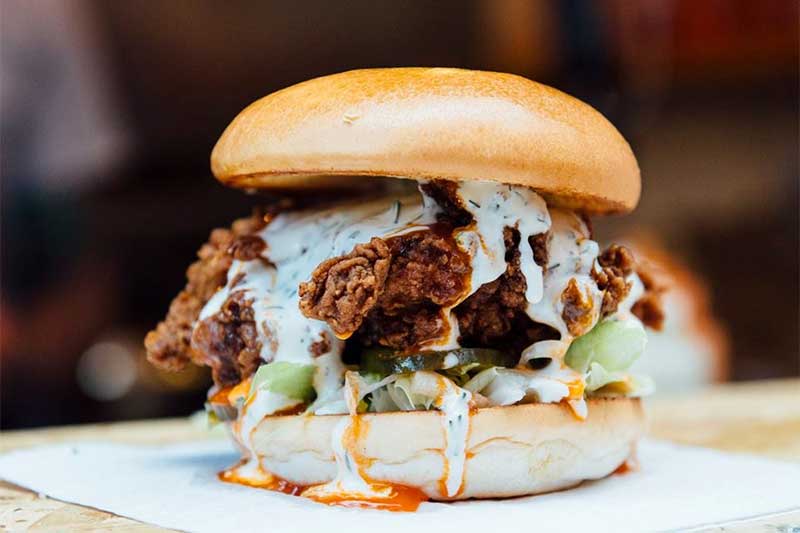 They've been popping up everywhere from Camden to Brixton, but now the team behind fried chicken stall Other Side Fried are getting ready to open in the heart of London.
Just before Christmas, they'll be throwing open the doors to their new takeaway space just outside the Leicester Square tube station. If they were looking for a place with great passing trade, they couldn't have chosen better.
The menu at their kiosk will feature a range of burgers, wraps and sides including:
Honey Butter (fried chicken, smoked honey butter, bacon, pickles and lettuce)
Buffalo (fried chicken, hot sauce, ranch sauce, pickles and lettuce)
The OSF (fried chicken, brown butter mayo, Parmesan, garlic and lettuce)
And - for veggies - Celerica (fried celeriac, cheese and chive sauce, fried egg, pickles and lettuce).
For sides, you can choose between Fries with cajun rosemary salt, Dirty Fries (bacon, Parmesan and ranch sauce) and Chicken Strip with Kiev mayo. The kiosk will act as a takeaway venue only, offering a grab and go option for from lunch through to late night.
More about Other Side Fried
Where is it? 21 Cranbourn Street, London, WC2H 4AA
When? 21 December 2018
Launch offer: They'll be giving away 200 of their Buffalo burgers for free from 12pm on 21st December
Find out more: Visit their website or follow them on Twitter @othersidefried
Subscribe to be the first to get the news from Hot Dinners