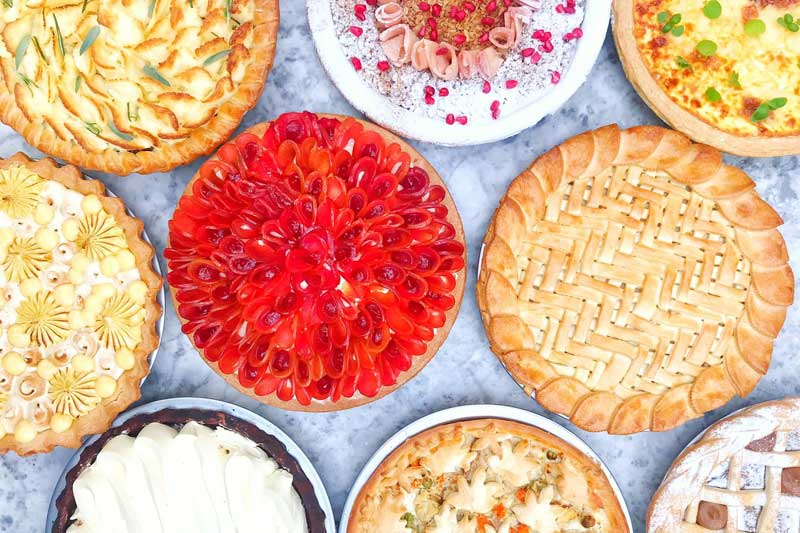 Who ate all the pies? You if you manage to get tickets to Dominique Ansel Bakery London's Pie Night. The hook - unlimited slices of pie.
As New Yorkers would tell you, this is one of those events you'll need to put an alert in your calendar for. Ansel has been running it there for the past four years and apparently in NYC tickets sell out in two minutes.
For £42 you can eat as many slices of the ten different pies on offer as you can manage in 90 minutes (best not have lunch that day). There'll also be a bottomless Sparkling Apple Cider cocktail and servers will be scooping up Tahitian Vanilla ice-cream at tables throughout the night.
And just look at the menu:
Savoury pies:
Tarragon-Poached Chicken & Ham Hock Pie with Honey Roasted Celeriac.
Ale-Braised Steak & Rock Oyster Pie.
White Lancashire Cheese & Caramelised Onion Pie (v).
Slow-Cooked Beef Cheek & Port Cottage Pie with Golden Parmesan & Rosemary Mash.
Wild Mushroom, Leek & Artichoke Pie with Crème Fraîche, Roasted Garlic & Thyme (v).
Sweet Pies
Salted Caramel Harvest Apple Pie.
Damson Plum & Sloe Gin Pie with Spiced Chantilly Cream.
Pomegranate-Poached Quince & Elderflower Pie with Toasted Cobnut Crumble.
Nutella Angel Cream Pie with Whipped Sour Cream Mousse.
Lemon Meringue Pie with Brown Sugar Meringue and Lemon Thyme.
"Pie Night is one of my favourite traditions each year in New York" says Ansel, "We first started it 4 years ago in the West Village, and for us, it marks the start of autumn (which, for a pastry chef and bakery, is also pie season)."
More about Pie Night
Where is it? Dominique Ansel Bakery London, 17-21 Elizabeth St, London SW1W 9RP
When? 24-25 October 2018
How to book: Book online. Booking opens 12pm on 5 October. £42 per person - Limit 6 tickets per person
Find out more: Visit their website or follow them on Twitter @dablondon
Subscribe to be the first to get the news from Hot Dinners