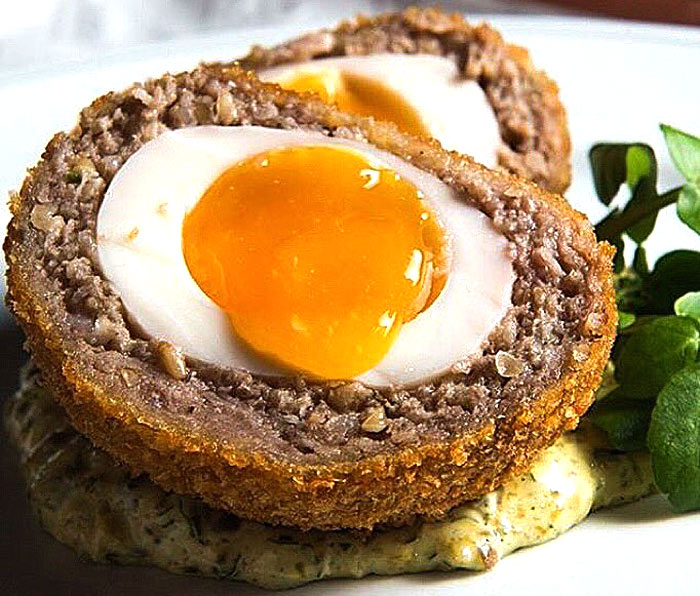 Twenty two Scotch Eggs. That's an awful lot of Scotch Eggs. This was the daunting, yet glorious prospect at this year's Scotch Egg Challenge, involving chefs from some of the country's best restaurants and gastropubs competing to come up with the finest result.
An expert panel of judges, Fay Maschler, Groucho Club executive chef Henry Harris, the Guardian's Bob Granleese and restaurant PR Hugh Wright, had the possibly unenviable task of judging all 22 entries, and choosing two overall winners - one 'conventional' and another more experimental effort.
The Canonbury Tavern was crammed to the rafters with the competing teams and their supporters: as each entry was delivered to the judges, trays of samples were ferried around the room for everyone to try.
And what a selection: black pudding and pork from The Drapers Arms. A highly regarded mix of pulled pork and morcilla paste from Ben Mulock at the Opera Tavern. A classic rare breed pork and white pudding from Calum Franklin at the Holborn Dining Room went down well, along with a luxury duck meat version from Tom's Kitchen.
The platters just kept on coming: there were even a couple of veggie efforts, which had a tough crowd to win over. We were impressed with The Parlour's vegetable and nut egg, which came rather fetchingly housed in a little nest.
There was a last rally of energy to sample the final entries, including an exotic Thai spiced version layered with seaweed from The Princess Victoria
And finally, the winners were revealed:
The 'traditional' winner was The Holborn Dining Room's Calum Franklin's white pudding ensemble (pictured above), which won him a special trophy and a huge cheer.
In the 'untraditional' category (pictured below), that Thai spice and seaweed egg from The Princess Victoria
If you fancy either of them, they'll both be on their respective menus for the next 30 days. 
Another brilliant night, expertly organised by the Canonbury manager Osh Rodgers: although we have to confess it might be a while before we order another Scotch Egg.