Is the year half-way over already? Blimey.
But that means that it's time for our first look back at the year so far, pulling out all the really great restaurants that have opened in London so far this year. And it's QUITE the list, we think, with a pretty diverse group of places opening over the period.
So if you're looking to be guided to the best new spots in town, here goes...
Opened in June 2017
Neo Bistro
11 Woodstock Street, Mayfair, W1C
In a nutshell: East London style seasonal food in the West End
From chefs Alex Harper (ex Harwood Arms) and Mark Jarvis (Anglo) this restaurant brings a little bit of East-End inventiveness into the heart of London, just off Oxford Street. Fay Maschler is a fan - "Rarely are there more than three items on a plate and they mingle compellingly." and City AM reviewer Melissa York thinks the "food so intriguing, you'll be discussing it long after you've left."
Find out more about Neo Bistro
Read our Test Drive of Neo Bistro
Darjeeling Express
Top Floor, Kingly Court, Carnaby, London W1B 5PW
In a nutshell: Indian supperclub gets a permanent spot
Asma Khan has gathered a hugely loyal following with her Darjeeling Express supperclubs over the years and this sees her taking up a permanent place in Carnaby's Kingly Court. It got high praise from Grace Dent, who said "she also makes fearsomely spiced croquettes using fen beetroot which are worth making your eyes water for".
Find out more about Darjeeling Express
Sibarita
7 Maiden Lane, London WC2E 7NA
In a nutshell: Encant chef opens a cheese and wine bar down the road
Victor Garvey's Encant in Covent Garden is to get a follow up called Rambla later in 2017, but somehow he found the time to create and open a new restaurant beforehand. A few doors down from Encant, this is primarily a wine bar focusing on cheese, charcuterie, wine and tapas. And David Ellis in the Standard was mightily impressed - "I called it an oasis."
Pique Nique
32 Tanner St, London SE1 3LD
In a nutshell: Casse Croute does French chicken
The new rotisserie chicken place from the folk behind Bermondsey's Casse Croute pleased Fay Maschler who found the chickens "helpfully sliced, drenched in jus and served with a frilly green salad". As for the chocolate Fondant, the Financial Times critic Tim Hayward says: "I really hope I live to well over a hundred because it's the only way I'll ever get even the faintest chance of eating a better dessert than this." Wow - high praise indeed.
Find out more about Pique Nique
Xu
30 Rupert Street, London W1D 6DL
In a nutshell: Bao does Taiwanese dining in Chinatown.
The third opening from the team behind the two Bao restaurants, Xu is "a couple of tweaks – and a pudding menu – away from being truly excellent" says Matthew Bayley in The Telegraph. He reserves particular praise for the cuttlefish toast - "Imagine the world's greatest prawn toast." It gets 5 stars from Time Out where Tania Ballantine says "Everything I ate was terrific". This view was echoed by blogger The Picky Glutten who said: "There are very few other restaurants in London I'd rather eat at. It's as simple as that."
Opened in May 2017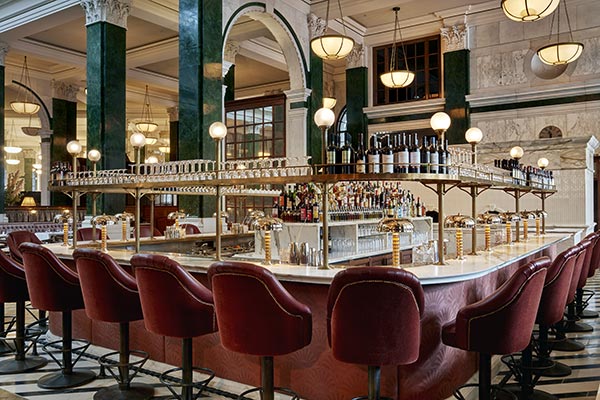 The Ned
27 Poultry, London EC2R 8AJ
In a nutshell: Soho House's uber hotel in the City
It would appear that, from looking at The Ned, Soho House don't do things by halves. From the rooftop pool to the bar that's in a bank vault, it's one of London's most impressive openings in years. And that's before we get to the food, with nine new restaurants opening in the hotel. With everything from Cecconi's City to Jewish deli Zobler's, a grill room and more there's almost too much choice. It'll be hard for any new restaurant/hotel to make a bigger splash than this in 2017.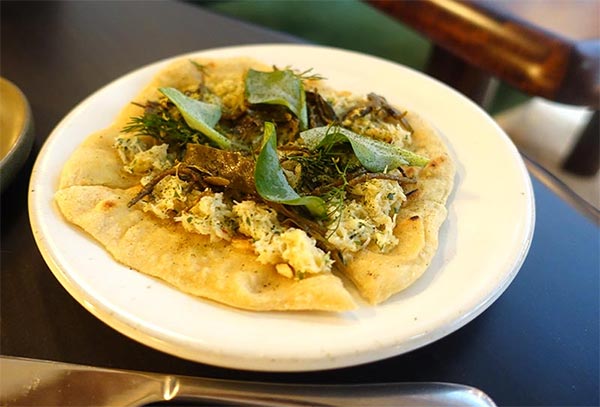 Henrietta
14-15 Henrietta St, London WC2E 8QH
In a nutshell: Ollie Dabbous meets the ECC
With Dabbous behind him (and more to come) the latest from Ollie Dabbous is in the shape of his team up with the Experiemental Group (who also run the Experimental Cocktail Club) in their new Henrietta Hotel. It; looks like being an instant hit right out of the gate with an early rave from Fay Maschler who says "The menu, under the control of Rob Tecwyn, formerly head chef at Dabbous, is, you could say, an ode to joy."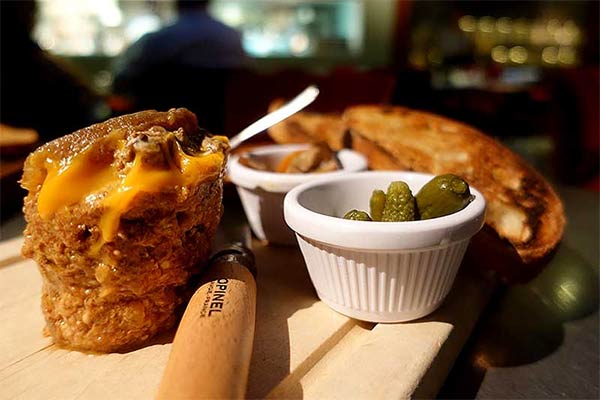 Tratra
2-4 Boundary Street, London E2 7DD
In a nutshell: French food with a meaty focus in Shoreditch
French chef Stéphane Reynaud has taken over the basement restaurant at Shoreditch's Boundary hotel and given it something of a French makeover. And with his background in charcuterie, there's a big meat focus with some of the greatest terrines we've personally had in a London restaurant.
Radici
30 Almeida St, London N1 1AD
In a nutshell: Francesco Mazzei's Italian in Islington
Already popular from his Mayfair restaurant Sartoria, this restaurant sees top Italian chef Francesco Mazzei take over the spot that used to be Almeida. It's more keenly priced than the Mayfair restaurant and it's gained plaudits from Giles Coren and Jay Rayner. The latter says "If you do not order Mazzei's zucchini fritti, exploding from their pot like some desert grass that's bolted, you are an idiot."
Western's Laundry
34 Drayton Park, London N5 1PB
In a nutshell: Follow-up Highbury spot from the people behind Primeur.
It's clear we loved Westerns Laundry, but what did everyone else think of this rather beautiful new restaurant tucked away off Holloway Road? Jay Rayner says "Westerns Laundry is a class act: a smart, skilled kitchen with some tables attached" while food blogger and wine expert Zeren Wilson said it "hums in the evening with the same energy, joie de vivre and candlelit charm of Primeur."
Find out more about Westerns Laundry
Our Westerns Laundry Test Drive
Madame D's
76 Commercial Street, London E1 6LY
In a nutshell: The people behind Gunpowder go Himalayan
This is the next restaurant from the people behind Gunpowder, a very popular City Indian spot. This sees them taking their inspiration from Himalayan cooking, and cranking up the heat a little too. It's a small spot, but you can wait with drinks in the bar downstairs until a table becomes free. Marina O'Loughlin is a fan who says "it's not often I come out of a restaurant and immediately want to go back to eat the rest of the shortish menu."
Find out more about Madame D's
Duck & Waffle Local
52 Haymarket, London SW1Y 4RP
In a nutshell: Duck and Waffle comes down to earth
David Ellis in the Standard wasn't sure about the ordering lark, but decided that in comparison to the original "the food and drink has more character here. The service is friendlier." London on the Inside said "the duck jam donut with orange glaze is an absolute belter" and food writer Sabrina Ghayour said they "were doing great things" having tried the Duck Merguez wrap, Duck burger and carrot dishes."
Find out more about Duck and Waffle Local
Our Duck and Waffle Local Test Drive
Opened in April 2017
Dandy Cafe
20 Newington Green, London N16 9PU
In a nutshell: Modern cooking from two Aussies in Stoke Newington.
We reckon the cooking here is some of the best we've enjoyed in London this year and the reactions on Instagram at least seem to concur. "Some fascinating flavour combos at play," says food writer Ed Smith of Rocket and Squash while Instagrammer Felicity Spector loved the "insanely good Parmesan custard" that came with the asparagus.
Find out more about Dandy Cafe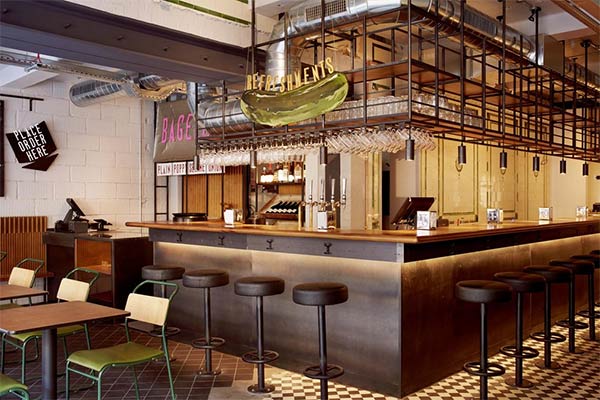 Monty's Deli
225 - 227 Hoxton Street, London N1
In a nutshell: Jewish deli and restaurant in Hoxton
Another street food king who have settled down with their own spot, Monty's Deli has let the team expand on the offering that they had on Maltby Street. Sure there's still their pastrami on rye, but a lot more besides, including a Shabbat dinner every night. As Grace Dent says "Monty's Deli in Hoxton is now firmly on the list of places I love."
Find out more about Monty's Deli
Summers
Sir Colin Campbell, 264-266 Kilburn High Rd, London, NW6 2BY
In a nutshell: Seasonal food with an Irish touch in Kilburn
Ex St John Bread and Wine chef Ruairidh Summers has gone it alone with this restaurant that's taken over the top floor of the Sir Colin Campbell pub in Kilburn. He's explored his Irish heritage to bring together a menu that features Irish dishes with a modern touch, unlike anything else in town,
Andi's
176 Church Street, Stoke Newington, London N16 0JL
In a nutshell: Great British menu judge in Stokey
Great British menu judge Andi Oliver (previously known for Sugar Shack) has set up shop in Stoke Newington with this restaurant that does a particularly mean brunch.
Opened in March 2017
Claude Bosi at Bibendum
Michelin House, 81 Fulham Road, London SW3 6RD
In a nutshell: Michelin Chef goes to South Ken
Having earned two Michelin stars in Mayfair's Hibiscus, It's fair to say there were high expectations of Bosi's move to South Kensington. He's taken over the ground floor too, but the main restaurant on the first floor is where the real Bosi action is. So far we've seen a lot of other chefs and industry folk praising it to the skies as well as critics. As Jay Rayner says "It is one I'll recommend when emails arrive, announcing milestones that need a restaurant by which to mark them."
Find out more about Claude Bosi at Bibendum
Our Claude Bosi at Bibendum Test Drive
Blacklock City
13 Philpot Lane, London EC3M 1DE
In a nutshell: Chops in the City
The original Blacklock in Soho was an instant hit with its mix of excellent chops and cocktails for a fiver. This sees them opening a second restaurant in the City with the same pricing and also maintaining that Soho feel. "There are few better places for steak & chips anywhere," tweeted blogger Chris Pople of his meal there.
Find out more about Blacklock City
Rick Stein Barnes
Tideway Yard, 125 Mortlake High St, London SW14 8SN
In a nutshell: Rick Stein comes to London
It's early days on as far as Rick Stein's new and eagerly awaited London restaurant is concerned, but his new riverside spot in Barnes is already packed out. Expect some of the best seafood in town and chef and author Gizzi Erskine says she had "a TERRIFIC lunch en famiglia" there recently.
Find out more about Rick Stein Barnes
Our Rick Stein Barnes Test Drive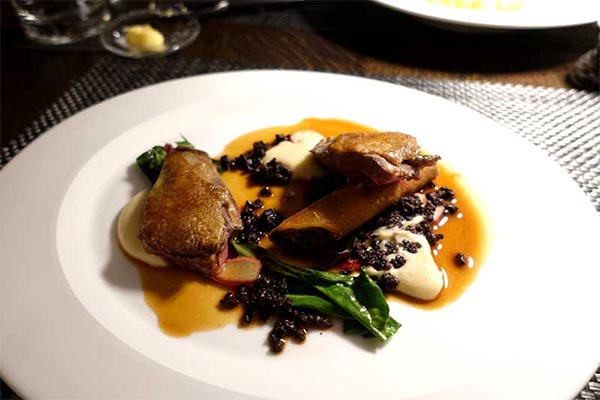 Mere
74 Charlotte Street, London W1T 4QH
In a nutshell: Monica Galetti's Fitzrovian gaff
Monica Galetti has many a fan from both MasterChef and other BBC shows, and just as many from her time at Le Gavroche. This sees her setting up her own spot in Fitzrorvia together with her sommelier husband David Galetti who has a strong hand on the wine. And Nick Curtis in the Standard said "The rhubarb and crème fraîche dessert, which we watched with envy land on a neighbouring table, has already been touted on Twitter as London's prettiest desert.".
The Game Bird
The Stafford Hotel, 16-18 St James's Place, London SW1A 1NJ
In a nutshell: Very British food in Mayfair
Exec chef James Durrant has created a menu at one of London's oldest hotels that really makes the most of its heritage - serving up a particularly British affair, with a strong focus on those game birds. An Ben McCormack in the Telegraph says, "he's created a great British menu which is another winner."
Find out more about The Game Bird
The Cheese Bar
Camden Stables Market, North Yard, Chalk Farm Road, London, NW1 8AH
In a nutshell: ALL the cheese in Camden
In their street food guise they're known as The Cheese Truck, but their first permanent restaurant sees them open a restaurant in Camden that's all counter and ALL cheese. That's really not overstating things and if you have a passing interest in the stuff you have to make a pilgramage here for everything from cheese toasties to cheese ice cream and everything in-between.
Find out more about The Cheese Bar
Opened in February 2017
Farang
72 Highbury Park, Highbury East, London N5 2XE
In a nutshell: Top Thai food in Highbury
Ex-Smoking Goat chef Seb Holmes has taken over his stepfather's old school trattoria in the heart of Highbury - and the juxtaposition of all those chequered tablecloths with such cutting edge Thai food is delighting the critics. Grace Dent has banned herself from the place after an outstanding bowl of coconut braised beef cheek while Giles Coren found it to be an "Old man's restaurant serving young man's food."
Lorne
76 Wilton Road, London SW1V 1DE
In a nutshell: Wine and seasonal food in Victoria
Marina O'Loughlin's a fan of this new Victoria neighbourhood spot, reserving particular praise for their beef short rib which she describes as "the cure to whatever ails you, comfort and contentment on the plate." She also singles out front of house's Katie Exton as a "dream hostess". Harper's Bazaar recommend you "Come with a friend you've been meaning to catch up with to make the most of the leisurely, friendly atmosphere."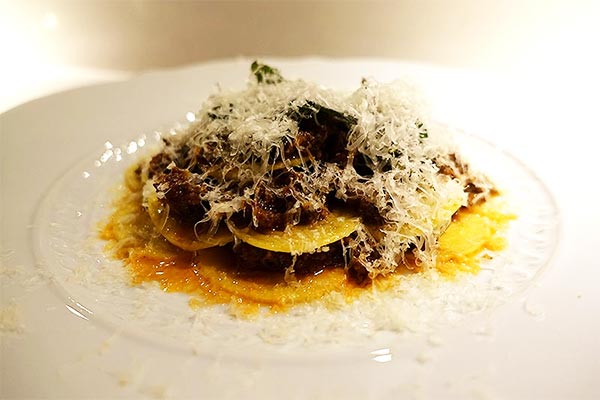 Hai Cenato
85 Buckingham Palace Road, London SW1W 0AJ
In a nutshell: Jason Atherton's Victoria Italian
Jason Atherton continues his impeccable record of opening good restaurants with this, his latest more informal spot in Victoria's Nova development. The Standard's Ben Norum thought, as we did, that the cracked potatoes were a "high-level pleasure, hovering somewhere between roastie and crispy potato wedge." while Giles Coren declared their pizza bianca "the best pizza I've ever had."
Find out more about Hai Cenato
Nape
21 Camberwell Church Street, London SE5 8TR
In a nutshell: Charcuterie and wine in Camberwell
You may well have seen Cannon and Cannon popping up in markets across town, but this sees them settling down with their first permanent spot in Camberwell. Expect to spend your night working your way through some top British cured meats, cheese toasties and lots of wine on tap to wash it down. Hard to think of how you could spend an evening better.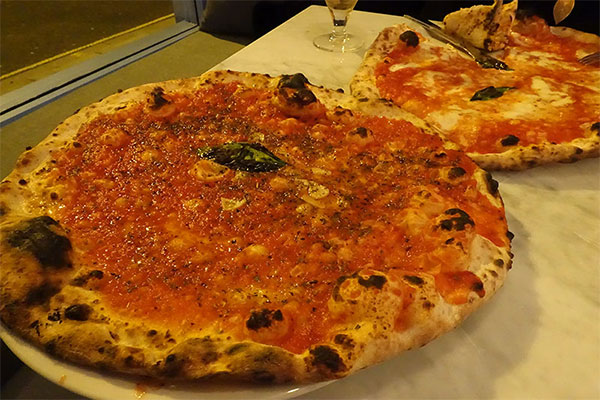 L'Antica Pizzeria da Michele
125 Stoke Newington Church Street, London N16 0UH
In a nutshell: Naples top pizza lands in Stoke Newington
Stoke Newington may not have been the first place you might expect one of Italy's top pizzerias to choose as their first outpost in the UK, but the locals must be VERY happy. About as authentic as a Neapolitan pizza it likely to get without you hopping on a plane to Italy. As Time Out says "This slice is definitely worth pulling a sickie for."
Find out more about L'Antica Pizzeria da Michele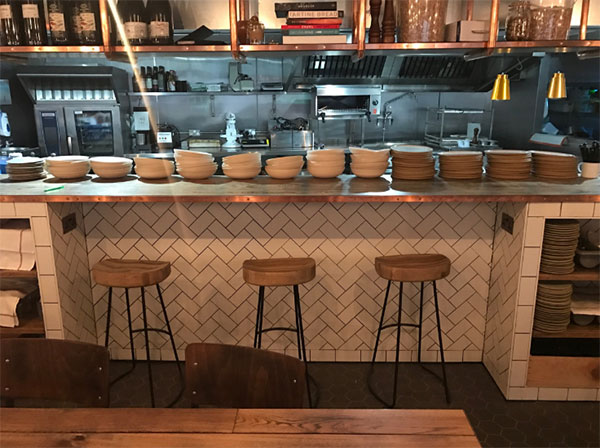 The Other Naughty Piglet
The Other Palace theatre, 12 Palace St, Westminster, London, SW1E 5JA
In a nutshell: Naughty Piglets goes to the theatre
The original Naughty Piglets in Brixton was one of those neighbourhood restaurants that punched significantly above its weight, winning plaudits far and wild. And it also attracted the attention of Andrew Lloyd Webber who has brought them to his new theatre in Victoria - The Other Place. Expect the usual excellent small plates and a particular focus on their wine list. As Fay Maschler's dining partner said ""One of the most agreeable and delicious joints you have taken me to in our 40 years of eating out.""
Find out more about The Other Naughty Piglet
Untitled
538 Kingsland Rd, London E8 4AH
In a nutshell: Tony Conigliaro's Dalston bar (with food).
A new bar from Tony Conigliaro (also behind 69 Colebrooke Row and Bar Termini) is always one to watch. And his latest in Dalston seems to be no exception to that rule from the early buzz we've heard. Expect cocktails that include all manner of ingredients from chalk to truffle - all served up in bespoke vessels - and the Asian food menu is one to watch too.
Opened in January 2017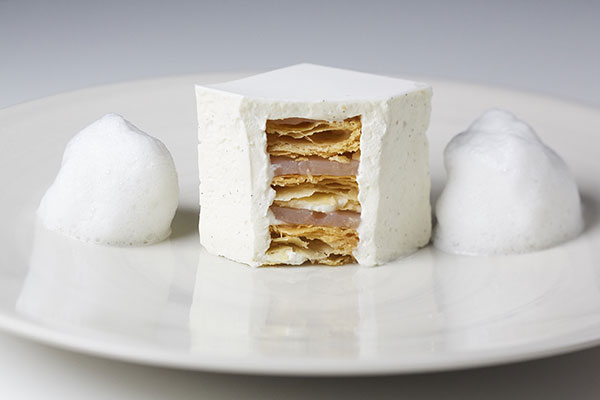 La Dame de Pic
Four Seasons Hotel, 10 Trinity Square, EC3N 4AJ.
In a nutshell: Top French Michelin starred chef comes to town
The new Four Seasons hotel in the City has brought in one of France's top chefs to run the restaurant, and expectation was very high indeed. Anne-Sophie Pic has three Michelin stars in France and will be looking to get a few more in London. Expect classic fine dining and look out for that millefueille dessert.
Find out more about La Dame de Pic
Palatino
71 Central Street, Clerkenwell, EC1V 3AG
In a nutshell: Stevie Parle does Italian
Stevie Parle's latest London spot sees him opening an Italian restaurant deep in the heart of Clerkenwell, and it's already going down a treat. We're still waiting for reviews to come in but from our early meal, we think this deserves to be an instant hit.
Kricket
12 Denman Street, Soho, London W1D 7HH
In a nutshell: Brixton Indian small plates goes central
The original Kricket (a tiny spot in Pop Brixton) has won itself a very devoted following since opening, gaining raves from punters and reviewers alike. Now they've gone central, landing a prime spot in Soho - with a bigger kitchen that lets them expand the menu. It's primarily a no-booking counter restaurant (expect a wait) but you will be able to book spots for four or more downstairs. Fans of the original will be very happy. Steve Dineen in City AM says "if we're not talking about it as one of the restaurants of the year come December, I'll be gob-smacked."
Best new London restaurants 2017, mapped.
Here's how they're spread across town.
That's not all...
We've more ways for you to find the restaurant that's right for you.
Too much choice? Then check out the very hottest restaurants in London with our ever updated Hot Right Now list.
Not enough choice? Our list of all the restaurants that have opened in the past year is what you'll need. And there are a LOT.