September sees the start of the native oyster season in the UK. Here's our pick of where's best In London to tuck into a briny bivalve - whether they're new natives or all-year-round rocks.
Bentley's - Mayfair
Ever the classic oyster venue choice, Bentley's boasts that it shucks more oysters than any other London restaurant - around 1000 a day on busy days. Perch yourself at the original marble oyster bar that's been in place since 1916 and choose from wild natives and rocks. Upstairs in the grill you can also try their 'hot rocks' served Rockefeller-style or with garlic or chorizo. 
If you want to get more serious, then book a spot at one of their regular oyster masterclasses on a Saturday. For £65 you get champagne on arrival, oyster master class and tasting with sommelier matched wines and take home a goody bag with apron, recipe cards and oyster knife.
The Cow -  Notting Hill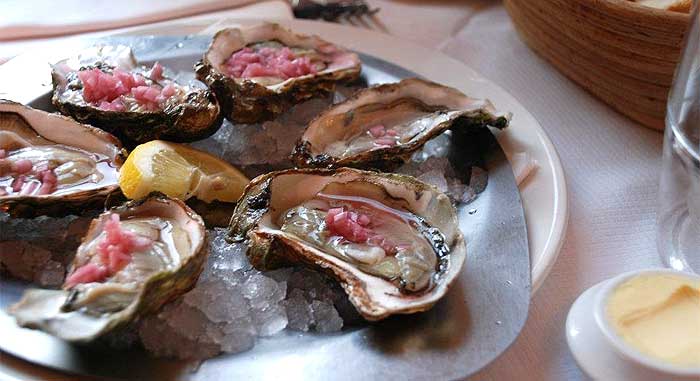 Tom Conran's Westbourne Park Road gastropub has all the fripperies you could want from a place with such an obvious focus on beer and oysters. Start your meal off with a Black Velvet or choose the Cow London Special which is a pint of Guinness (or glass of wine) together with half a dozen rock oysters for £18 which isn't at all bad for this part of town. Oh and you might spot David Beckham having a pint in the corner as this is one of his locals.
If you don't want to accompany your oysters with a pint of the black stuff, go off the bar menu and order Mersea Rocks - £15 for 6 or Fines De Claires which are £17 for six.
Randall & Aubin -  Soho
There's nothing quite like the classic platter at this Soho stalwart, which celebrated its 20th birthday last year. If you want to mix it up a bit, try their platter of mixed rocks from France, England and Ireland at £18.50 for eight.
Find out more about Randall & Aubin

The Richmond -  Hackney
There are seven types of oysters to be enjoyed up at the Oyster Bar at this Hackney restaurant, from Wild Blackwater at £2 a pop to Scottish Cumbrae at £3. Or perhaps go for an oyster shooter instead. If you're strapped for cash head here for the £1 oyster happy hour (Mon-Fri 6-7pm and Sat 5-7pm).
Find out more about The Richmond (it's currently closed but reopening again on Valentine's Day)

J Sheekey Atlantic Bar - St Martin's Court
Right in the heart of the West End, the oyster bar at Sheekey's is a useful spot as (unlike the main restaurant) you can pop in without a reservation. Try out their new Terrace with their current deal of six West Mersea pearl oysters and a glass of Gyejacquot champagne for £19.75.
Well and Bucket -  Bethnal Green
An East End pub given a Shoreditch-style makeover, the menu here is all about the oyster. You can start with three Lindisfarne or Helford River rocks for just £7.50. Or drink your oyster as a Bloody Mary oyster shot (£5). Downstairs, on the way to the loo, look out for the entrance to the hidden 5CC Cocktail Club. 
Find out more about Well and Bucket
Wiltons -  St James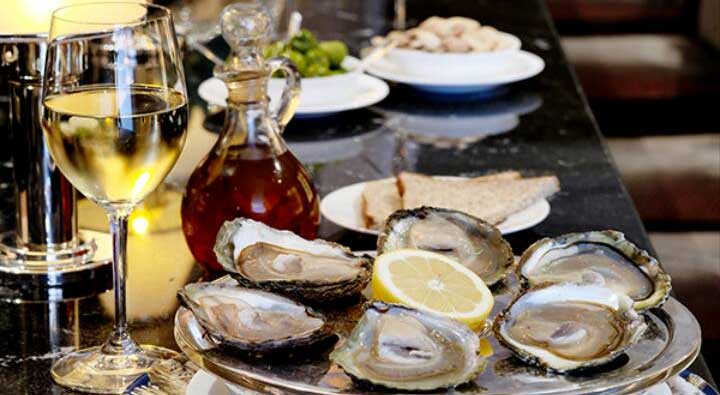 One of London's oldest restaurants (it's older than the USA basically), this St James stalwart has a secret weapon in Sam Tansanguan, who has been at the restaurant for over 30 years and up until 2014 held the title of British Oyster Opening Champion.
Oysters here start at £16.50 for half a dozen Jersey Rocks but one of the best things about their oh-so-traditional menu is the savoury course - make sure you order angels on horseback (£15).
Wright Brothers - Soho, Borough, Spitalfields and Kensington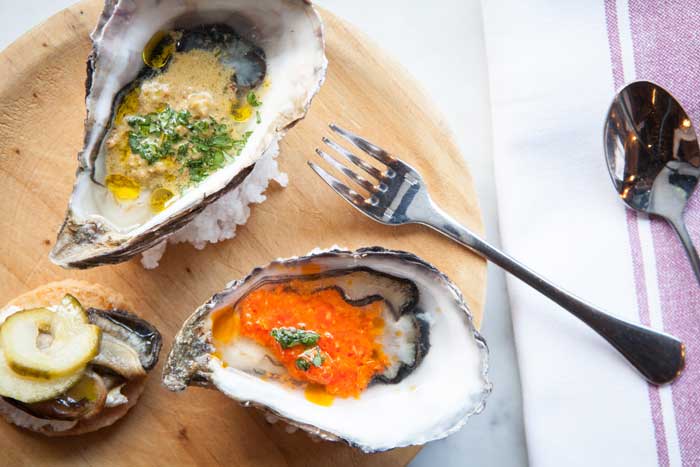 It's no surprise that the secret to a great spot to eat oysters is an impeccable source and the Wright Brothers' oysters are right up there.  We love their Spitalfields spot. It's pretty much all counter dining with an interesting selection of oysters. Alternatively, head to their newish restaurant in Kensington with a separate cocktail and oyster Mermaid Bar featuring oyster 'pound a pop' hours - 5pm to 6pm and 10pm to 11pm.
Find out more about Wright Brothers

Other places to try oysters in London
Remedy - Fitzrovia
Pop into this lovely wine bar between 3 and 6pm for their happy 'hour' menu when oysters are £1 each and you can add on fizz for £6.50 or a glass of beer for a fiver.
Prawn on the Lawn
This tiny neighbourhood spot in Islington features a wet fish counter at the front and a handful of seats up at a counter. If you prefer you can take a platter of shucked oysters home with you instead.
Hix Oyster and Chop House - Farringdon
It may be just around the corner from the famous Smithfield meat market, but the name says it all. You can choose from Colchester or Lindisfarne rocks at £2.95 each or try something a little different and have six rock oysters with Peter Gott's spicy sausages for £17.95. 
Fish Market - Broadgate
Set in one of the oldest surviving East India warehouses in the City, this laid-back restaurant features all manner of shellfish on its menu. Eat up at the bar for the best experience. Colchester rocks are £2.50 each and Whitstable natives are £4 a piece.
Sutton and Sons - Stoke Newington and Islington
This modern chipper offers one of the best oyster deals to be had in London - half a dozen Maldon oysters, freshly shucked for £8.95.
Brady's - Wandsworth
This popular South London seafood restaurant serves up a range of oysters platters starting with just three West Mersea oysters for under a fiver.
The Wine and Oyster Bar - Crystal Palace
Run by the people at the Crystal Palace Food Market next door, this newly-opened oyster bar serves Maldon Gigas from £2.60 each and Carlingford rocks for £2.80. Enjoy 
The London Shell Co - Regent's Canal
Pop on this canal boat for lunch and the Cumbrae oysters are a good snack to start off with at £2 a pop. 
Bonhams - Mayfair
Try their Porthilly rock oyster selection - have them warm with a cucumber beurre blanc and Exmoor caviar (£5), poached with a Granny Smith granita and pickled dulse (£3) or raw with Japanese dressing and finger lime (£3).  


Oyster residencies 
Claw is at the Sun and 13 Cantons in Soho until the end of February 2017. You'll be wanting to try their sourdough fried oysters with oyster cream for £7.
All prices correct as of 7 February 2017