The restaurant scene in London has never been hotter. Big name chefs and restaurants from all over the world have their eyes on us, new trends are popping up all the time and areas previously devoid of decent food are becoming hot culinary destinations.
We update this list regularly with the restaurants causing the biggest stir in town - the ones which reviewers are thrilled about, where tables are like gold dust or places that are just serving the most interesting and inventive food in town right now. We know there are plenty of great classic restaurants (and we're covering them in our Top 40 - London's Best Restaurants feature) but these are the hottest, in alphabetical order....
Aquavit
No 1 St James's Market, 1 Carlton Street, London SW1Y 4QQ
In a nutshell: Nordic cuisine in St James's Market
Aquavit has come to London the long way round after first conquering New York with its high end Nordic cuisine. The London outpost isn't quite as high-end, taking a contemporary dining approach but with the same chef, Emma Bengtsson, overseeing the menu. Expect contemporary Nordic cuisine in an impressive looking venue
Bao Fitzrovia
31 Windmill St, Fitzrovia, London W1T 2JN
In a nutshell: Bao goes north and gets bigger
A mainstay of this very list for a long time, the original Bao in Soho was one of the most popular London restaurants of last year. And now they've expanded to Fitzrovia for their next. With new dishes (and a striking black cod bao bun), a slightly larger space that should help with the queues, they're still proving themselves to be one of London's top restaurants.
Find out more about Bao Fitzrovia
The Barbary
16 Neal's Yard, London WC2H 9DP
In a nutshell: The Palomar #2
The original Palomar restaurant was one of the biggest instant success stories in recent years, so all eyes were on this place as soon as it was announced. Concentrating on Barbary Coast cuisine, it mixes small plates with a counter-dining-only room (much like Barrafina). It's already getting rave reviews just after opening, with even The Standard's queue-phobic David Sexton admitting "If you have to queue, queue.".
Find out more about The Barbary
Barrafina Dean Street
26-27 Dean Street, London W1D 4SL
In a nutshell: Barrafina Soho's new home
Nothing creates more buzz than a new Barrafina - and while this is technically their fourth in London, it's really the third as it's replacing the original Soho Barrafina. Here, they've take over a large spot of what used to be Quo Vadis. You can expect plenty of the Frith Street favourites as well as some new original dishes from the esteemed Nieves Barragán Mohacho.
Find out more about Barrifina Dean Street
Breddos
82 Goswell Rd, London EC1V 7DB
In a nutshell: Tacos and more from a Street Feast fave
For some time now, Breddos have been one of the most popular spots at the various Street Feast spots - and now they have a permanent spot in Clerkenwell. Their experience means they serve some of the best tacos in town, but the rest of the menu is just as enticing (not to mention the mezcal list). As Marina O'Loughlin says their tacos are "unspeakably delicious".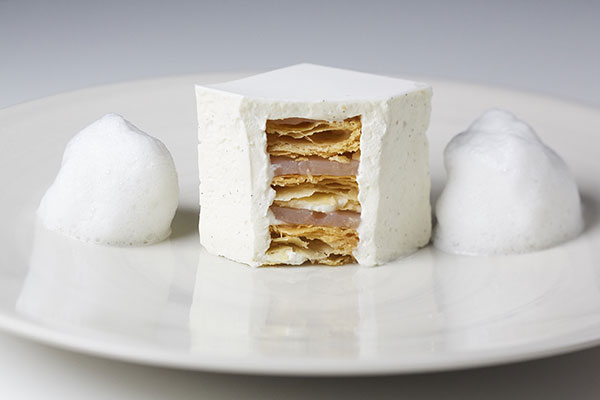 NEW: La Dame de Pic
Four Seasons Hotel, 10 Trinity Square, EC3N 4AJ.
In a nutshell: Top French Michelin starred chef comes to town
The new Four Seasons hotel in the City has brought in one of France's top chefs to run the restaurant, and expectiation has been very high indeed. Anne-Sophie Pic has three Michelin stars in France and will be looking to get a few more in London. Expect classic fine dining and look out for that millefueille dessert.
Find out more about La Dame de Pic
El Pastor
7a Stoney Street, London, SE1 9AA
In a nutshell: The Barrafina boys do tacos
They recently relaunched the Soho Barrafina to much acclaim in Dean Street but that hasn't stopped the Hart Bros. This is their first foray south of the river and a move away from Spanish food to Mexican. The main focus is on their tacos, but you can expect them to make a mean margarita too. Tom Parker Bowles was impressed: "For a minute, I could be back in Mexico. My greedy dreams have, at long last, come true."
Elystan Street
43 Elystan Street, Chelsea, London SW3 3NT
In a nutshell: The return of Philip Howard
After winning two Michelin stars at the Square, Philip Howard left there earlier this year. But he didn't rest for long, returning with this Chelsea restaurant that takes a more relaxed approach than his previous restaurant. The buzz is very good so far with Fay Maschler commenting that "dishes on the mutable, versatile, buzzing Elystan Street menus are as bulging with gift-wrapped notions as the Christmas stocking of a clean eater."
Find out more about Elystan Street
NEW: Ferdi
30 Shepherd Market, London W1J 7QN
In a nutshell: Parisian celeb hangout comes to London
The original Ferdi in Paris is well known as a top hangout for celebs, and the London opening seems set to do the same. It's purposefully hard to get into (you can only book by text message in the evening) and even though the opening was quiet by London standards, it's still garnered a great deal of excitement. Inside, expect to find cheese-smothered burgers, mac and cheese and more.
Jamavar
8 Mount Street, Mayfair, London W1K 3NF
In a nutshell: High-end Indian restaurant with ex-Gymkhana chef
Rohit Ghai has previously helped Gymkhana win many a plaudit, so all eyes were on him as he took the reins of Jamavar as Executive Chef. The restaurant has previously been a big hit in India and the London version is already winning many a plaudit. Fay Maschler said she was "almost deliriously happy with our small plates" while Andy Hayler says "This seems to me to be the best Indian food in London at present."
Kiln
58 Brewer Street, London W1F 9TL
In a nutshell: Smoking Goat with pottery
Soho's Smoking Goat has been a continuing big hit in Soho and similar praises are already being aimed at the follow up. The kiln in the name refers to the pottery that holds much of their curries and here you can expect a simpler approach to Thai food. It got a rare perfect review from Fay Maschler who said "Chapman's obsessiveness - get him talking about fish sauces - dedication, assiduous research, creativity, insistence on well-bred ingredients... is the reasoning behind five stars."
Kricket
12 Denman Street, Soho, London W1D 7HH
In a nutshell: Brixton Indian small plates goes central
The original Kricket (a tiny spot in Pop Brixton) has won itself a very devoted following since opening, gaining raves from punters and reviewers alike. Now they've gone central, landing a prime spot in Soho - with a bigger kitchen that lets them expand the menu. It's primarily a no-booking counter restaurant (expect a wait) but you will be able to book spots for four or more downstairs. Fans of the original will be very happy.
The Laughing Heart
277 Hackney Road, London E2 8NA
In a nutshell: Late night east London wine bar
The onset of the late night tube has seen a recent upswell in late night eating and drinking spots in town, with this restaurant coming in for some of the strongest praise. A late night wine bar and restaurant, it's caught the eye of and won plaudits from many a London chef and Fay Maschler said the dinner menu is "as compelling to roam through as a Mediterranean market but one with a Japanese stall tucked in."
Find out more about The Laughing Heart
Luca
88 St John Street, London EC1M 4EH
In a nutshell: The Clove Club do Italian
News that the team behind The Clove Club were not only opening a second restaurant, but that this one was imminent, took Londoners by surprise. Their new place, just up from Smithfield on St John Street, brings their signature rigour and creativity to Italian cuisine. Marina O'Loughlin says "this second album hasn't just the makings of a hit, but of a classic."
Padella
6 Southwark Street, London SE1 1TQ
In a nutshell: Top class speedy pasta
This pasta bar, opening up just outside Borough Market from the people behind Trullo, has proven to be an instant hit. There's a short manu of some of the freshest pasta in town and perfect for anyone visiting the market. Expect queues because as Marina O'Loughlin in the Guardian says: "even in food-stuffed Borough, Padella stands out."
NEW: Palatino
71 Central Street, Clerkenwell, EC1V 3AG
In a nutshell: Stevie Parle does Italian
Stevie Parle's latest London spot sees him opening an Italian restaurant deep in the heart of Clerkenwell, and it's already going down a treat. We're still waiting for reviews to come in but from our early meal, we think this deserves to be an instant hit.
Som Saa
43A Commercial Street, London E1 6BD 
In a nutshell: Top Thai in Spitalfields
Following a breakneck speed crowdfunding campaign, Som Saa became one of 2016's most anticipated restaurant launches. Their stint at Climpson's Arch was universally revered and the expectation for their first permanent spot was sky high. Thankfully they've completely delivered and the raves are starting to pour in. As Time Out says "Som Saa will blow you away: literally and metaphorically."
Smokestak
11 Sclater St, Shoreditch, London E1 6HZ 
In a nutshell: Brisket in Shoreditch
David Carter's Smokestak has been doing the rounds at various Street Feast events for some time now, and has built up a reputation as delivering the best brisket in town, no mean feat. Expect that and more at his first Permanent spot in Shoreditch which Grace Dent raved about it and said "it is different, incongruous and soon to be copied to high heaven."
Temper
25 Broadwick Street, London W1F 0DF
In a nutshell: Neil Rankin's underground meat palace
Neil Rankin's best known for smoking meats and this restaurant delivers on that and then some. Featuring an enormous smoker at the centre of everything it mixes meats, tacos and flatbread for a carnivore's dream. As Lisa Markwell put it "The morning after, I feel old and fat and smell like a butcher's apron. And I like it."
Ones to watch...
There are always a few just-opened restaurants that aren't quite ready for the list - but worth keeping an eye on...
Where's Hot, mapped.
Here's how the Hot Dinners "Where's Hot" restaurants are spread across town.