The restaurant scene in London has never been hotter. Big name chefs and restaurants from all over the world have their eyes on us, new trends are popping up all the time and areas previously devoid of decent food are becoming hot culinary destinations.
We update this list regularly with the restaurants causing the biggest stir in town - the ones which reviewers are thrilled about, where tables are like gold dust or places that are just serving the most interesting and inventive food in town right now. We know there are plenty of great classic restaurants (and we're covering them in our Top 40 - London's Best Restaurants feature) but these are the hottest, in alphabetical order....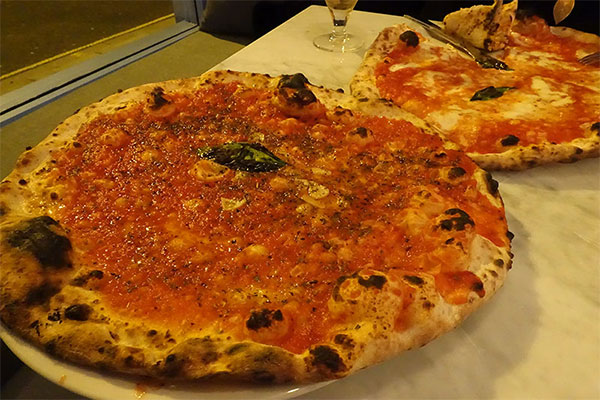 L'Antica Pizzeria da Michele
125 Stoke Newington Church Street, London N16 0UH
In a nutshell: Naples top pizza lands in Stoke Newington
Stoke Newington may not have been the first place you might expect one of Italy's top pizzerias to choose as their first outpost in the UK, but the locals must be VERY happy. About as authentic as a Neapolitan pizza it likely to get without you hopping on a plane to Italy. As Time Out says "This slice is definitely worth pulling a sickie for."
Find out more about L'Antica Pizzeria da Michele
Blacklock City
13 Philpot Lane, London EC3M 1DE
In a nutshell: Chops in the City
The original Blacklock in Soho was an instant hit with its mix of excellent chops and cocktails for a fiver. This sees them opening a second restaurant in the City with the same pricing and also maintaining that Soho feel. "There are few better places for steak & chips anywhere," tweeted blogger Chris Pople of his meal there.
Find out more about Blacklock City
Claude Bosi at Bibendum
Michelin House, 81 Fulham Road, London SW3 6RD
In a nutshell: Michelin Chef goes to South Ken
The Frenchman's return to the London dining scene after the closure of Hibiscus has had a lot of love. Jay Rayner in the Observer called Bosi's new digs "a restaurant with a profound understanding of the simple virtues" but warns it's "viciously expensive". while Giles Coren praised Bibendum's food too "the supreme delicacy of some of the starters sends them straight to the top of London's fancy list."
Find out more about Claude Bosi at Bibendum
Our Claude Bosi at Bibendum Test Drive
Breddos
82 Goswell Rd, London EC1V 7DB
In a nutshell: Tacos and more from a Street Feast fave
For some time now, Breddos have been one of the most popular spots at the various Street Feast spots - and now they have a permanent spot in Clerkenwell. Their experience means they serve some of the best tacos in town, but the rest of the menu is just as enticing (not to mention the mezcal list). As Marina O'Loughlin says their tacos are "unspeakably delicious".
NEW: Dandy Cafe
20 Newington Green, London N16 9PU
In a nutshell: Modern cooking from two Aussies in Stoke Newington.
We reckon the cooking here is some of the best we've enjoyed in London this year and the reactions on Instagram at least seem to concur. "Some fascinating flavour combos at play," says food writer Ed Smith of Rocket and Squash while Instagrammer Felicity Spector loved the "insanely good Parmesan custard" that came with the asparagus.
Find out more about Dandy Cafe
El Pastor
7a Stoney Street, London, SE1 9AA
In a nutshell: The Barrafina boys do tacos
They recently relaunched the Soho Barrafina to much acclaim in Dean Street but that hasn't stopped the Hart Bros. This is their first foray south of the river and a move away from Spanish food to Mexican. The main focus is on their tacos, but you can expect them to make a mean margarita too. Tom Parker Bowles was impressed: "For a minute, I could be back in Mexico. My greedy dreams have, at long last, come true."
Farang
72 Highbury Park, Highbury East, London N5 2XE
In a nutshell: Top Thai food in Highbury
Ex-Smoking Goat chef Seb Holmes has taken over his stepfather's old school trattoria in the heart of Highbury - and the juxtaposition of all those chequered tablecloths with such cutting edge Thai food is delighting the critics. Grace Dent has banned herself from the place after an outstanding bowl of coconut braised beef cheek while Giles Coren found it to be an "Old man's restaurant serving young man's food."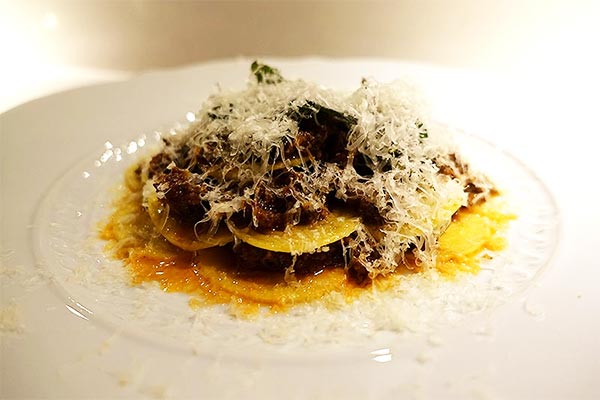 Hai Cenato
85 Buckingham Palace Road, London SW1W 0AJ
In a nutshell: Jason Atherton's Victoria Italian
Jason Atherton continues his impeccable record of opening good restaurants with this, his latest more informal spot in Victoria's Nova development. The Standard's Ben Norum thought, as we did, that the cracked potatoes were a "high-level pleasure, hovering somewhere between roastie and crispy potato wedge." while Giles Coren declared their pizza bianca "the best pizza I've ever had."
Find out more about Hai Cenato
Kiln
58 Brewer Street, London W1F 9TL
In a nutshell: Smoking Goat with pottery
Soho's Smoking Goat has been a continuing big hit in Soho and similar praises are already being aimed at the follow up. The kiln in the name refers to the pottery that holds much of their curries and here you can expect a simpler approach to Thai food. It got a rare perfect review from Fay Maschler who said "Chapman's obsessiveness - get him talking about fish sauces - dedication, assiduous research, creativity, insistence on well-bred ingredients... is the reasoning behind five stars."
Kricket
12 Denman Street, Soho, London W1D 7HH
In a nutshell: Brixton Indian small plates goes central
The original Kricket (a tiny spot in Pop Brixton) has won itself a very devoted following since opening, gaining raves from punters and reviewers alike. Now they've gone central, landing a prime spot in Soho - with a bigger kitchen that lets them expand the menu. It's primarily a no-booking counter restaurant (expect a wait) but you will be able to book spots for four or more downstairs. Fans of the original will be very happy and City AM says "if we're not talking about it as one of the restaurants of the year come December, I'll be gob-smacked."
The Laughing Heart
277 Hackney Road, London E2 8NA
In a nutshell: Late night east London wine bar
The onset of the late night tube has seen a recent upswell in late night eating and drinking spots in town, with this restaurant coming in for some of the strongest praise. A late night wine bar and restaurant, it's caught the eye of and won plaudits from many a London chef and Fay Maschler said the dinner menu is "as compelling to roam through as a Mediterranean market but one with a Japanese stall tucked in."
Find out more about The Laughing Heart
Launceston Place
1A Launceston Pl, Kensington, London W8 5RL
In a nutshell: New chef reinvigorates classic restaurant
Ben, one of Britain's fastest rising young chefs and *definitely* one to watch, is bringing with him a wealth of experience (and heaps of praise) from his time at E18's The Woodford. We loved the place when we took it for a Test Drive and we weren't the only ones. "The cooking is precise and thoughtful, but it is not fussy: there are no smoke screens and this absence of theatre is the menu's strength," said David Ellis in the Standard.
Find out more about Launceston Place
Our Launceston Place Test Drive
NEW: Lorne
76 Wilton Road, London SW1V 1DE
In a nutshell: Wine and seasonal food in Victoria
Marina O'Loughlin's a fan of this new Victoria neighbourhood spot, reserving particular praise for their beef short rib which she describes as "the cure to whatever ails you, comfort and contentment on the plate." She also singles out front of house's Katie Exton as a "dream hostess". Harper's Bazaar recommend you "Come with a friend you've been meaning to catch up with to make the most of the leisurely, friendly atmosphere."
Luca
88 St John Street, London EC1M 4EH
In a nutshell: The Clove Club do Italian
News that the team behind The Clove Club were not only opening a second restaurant, but that this one was imminent, took Londoners by surprise. Their new place, just up from Smithfield on St John Street, brings their signature rigour and creativity to Italian cuisine. Marina O'Loughlin says "this second album hasn't just the makings of a hit, but of a classic."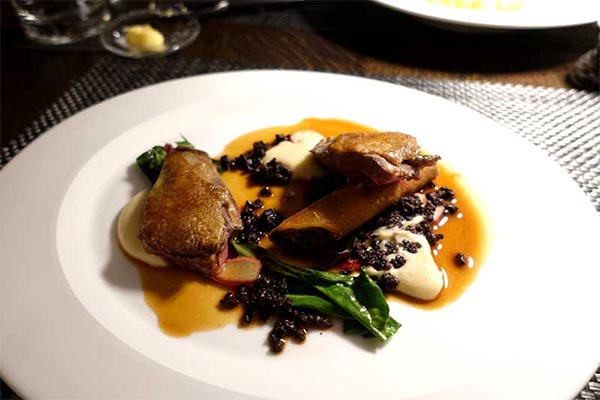 Mere
74 Charlotte Street, London W1T 4QH
In a nutshell: Monica Galetti's Fitzrovian gaff
Monica Galetti has many a fan from both MasterChef and other BBC shows, and just as many from her time at Le Gavroche. This sees her setting up her own spot in Fitzrorvia together with her sommelier husband David Galetti who has a strong hand on the wine. And Nick Curtis in the Standard said "The rhubarb and crème fraîche dessert, which we watched with envy land on a neighbouring table, has already been touted on Twitter as London's prettiest desert.".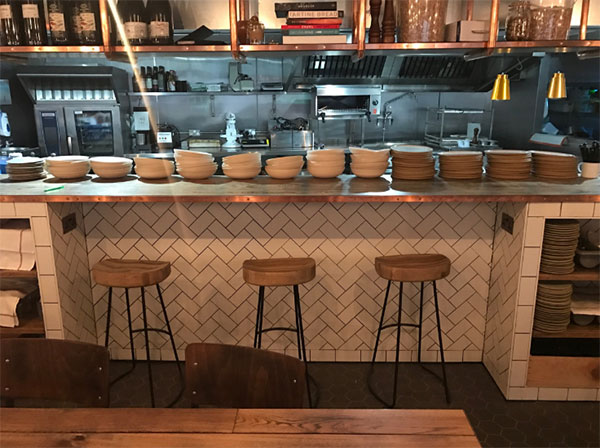 The Other Naughty Piglet
The Other Palace theatre, 12 Palace St, Westminster, London, SW1E 5JA
In a nutshell: Naughty Piglets goes to the theatre
The original Naughty Piglets in Brixton was one of those neighbourhood restaurants that punched significantly above its weight, winning plaudits far and wild. And it also attracted the attention of Andrew Lloyd Webber who has brought them to his new theatre in Victoria - The Other Place. Expect the usual excellent small plates and a particular focus on their wine list. As Fay Maschler's dining partner said ""One of the most agreeable and delicious joints you have taken me to in our 40 years of eating out.""
Find out more about The Other Naughty Piglet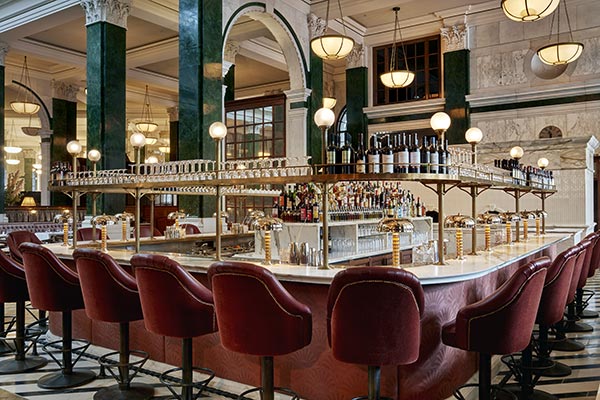 NEW: The Ned
27 Poultry, London EC2R 8AJ
In a nutshell: Soho House's uber hotel in the City
It would appear that, from looking at The Ned, Soho House don't do things by halves. From the rooftop pool to the bar that's in a bank vault, it's one of London's most impressive openings in years. And that's before we get to the food, with eight new restaurants opening in the hotel. With everything from Cecconi's City to Jewish deli Zobler's, a grill room and more there's almost too much choice. This will be THE place to go over the next few months.
Palatino
71 Central Street, Clerkenwell, EC1V 3AG
In a nutshell: Stevie Parle does Italian
Stevie Parle's latest London spot sees him opening an Italian restaurant deep in the heart of Clerkenwell, and it's going down a treat. As Keith Miller in the Telegraph said "all in all I thought Palatino was an excellent restaurant, sure-footed and suave".
Smokestak
11 Sclater St, Shoreditch, London E1 6HZ 
In a nutshell: Brisket in Shoreditch
David Carter's Smokestak has been doing the rounds at various Street Feast events for some time now, and has built up a reputation as delivering the best brisket in town, no mean feat. Expect that and more at his first Permanent spot in Shoreditch which Grace Dent raved about it and said "it is different, incongruous and soon to be copied to high heaven."
Rick Stein Barnes
Tideway Yard, 125 Mortlake High St, London SW14 8SN
In a nutshell: Rick Stein comes to London
It's early days on as far as Rick Stein's new and eagerly awaited London restaurant is concerned, but his new riverside spot in Barnes is already packed out. Expect some of the best seafood in town and chef and author Gizzi Erskine says she had "a TERRIFIC lunch en famiglia" there recently.
Find out more about Rick Stein Barnes 
Temper
25 Broadwick Street, London W1F 0DF
In a nutshell: Neil Rankin's underground meat palace
Neil Rankin's best known for smoking meats and this restaurant delivers on that and then some. Featuring an enormous smoker at the centre of everything it mixes meats, tacos and flatbread for a carnivore's dream. As Lisa Markwell put it "The morning after, I feel old and fat and smell like a butcher's apron. And I like it."
Untitled
538 Kingsland Rd, London E8 4AH
In a nutshell: Tony Conigliaro's Dalston bar (with food).
A new bar from Tony Conigliaro (also behind 69 Colebrooke Row and Bar Termini) is always one to watch. And his latest in Dalston seems to be no exception to that rule from the early buzz we've heard. Expect cocktails that include all manner of ingredients from chalk to truffle - all served up in bespoke vessels. And the Asian food menu is top notch too - worth the visit for that alone, we think.
Ones to watch...
There are always a few just-opened restaurants that aren't quite ready for the list - but worth keeping an eye on...
Prawn on the Lawn - this popular Islington fish shop/restaurant has just got new digs in the old LeCoq site on St Paul's Road. All of which means it can expand its menu to hot food which has had it rammed since opening.
Machiya - Expect to see a LOT of the Genmaicha mille crepe from Kanada-Ya's new place on Instagram.
The Game Bird - fancy British dining in a hidden-away Mayfair spot.
Radici - Francesco Mazzei's laid-back Islington spot seems to be a popular addition to his already wonderful Sartoria.
Andi's - we're starting to hear a lot of good buzz about the Great British Menu chef's Stoke Newington Restaurant
Where's Hot, mapped.
Here's how the Hot Dinners "Where's Hot" restaurants are spread across town.