The restaurant scene in London has never been hotter. Big name chefs and restaurants from all over the world have their eyes on us, new trends are popping up all the time and areas previously devoid of decent food are becoming hot culinary destinations.
We update this list regularly with the restaurants causing the biggest stir in town - the ones which reviewers are thrilled about, where tables are like gold dust or places that are just serving the most interesting and inventive food in town right now. We know there are plenty of great classic restaurants (and we're covering them in our Top 40 - London's Best Restaurants feature) but these are the hottest, in alphabetical order....
Blacklock City
13 Philpot Lane, London EC3M 1DE
In a nutshell: Chops in the City
The original Blacklock in Soho was an instant hit with its mix of excellent chops and cocktails for a fiver. This sees them opening a second restaurant in the City with the same pricing and also maintaining that Soho feel. "There are few better places for steak & chips anywhere," tweeted blogger Chris Pople of his meal there.
Find out more about Blacklock City
Claude Bosi at Bibendum
Michelin House, 81 Fulham Road, London SW3 6RD
In a nutshell: Michelin Chef goes to South Ken
The Frenchman's return to the London dining scene after the closure of Hibiscus has had a lot of love. Jay Rayner in the Observer called Bosi's new digs "a restaurant with a profound understanding of the simple virtues" but warns it's "viciously expensive". while Giles Coren praised Bibendum's food too "the supreme delicacy of some of the starters sends them straight to the top of London's fancy list."
Find out more about Claude Bosi at Bibendum
Our Claude Bosi at Bibendum Test Drive
Breddos
82 Goswell Rd, London EC1V 7DB
In a nutshell: Tacos and more from a Street Feast fave
For some time now, Breddos have been one of the most popular spots at the various Street Feast spots - and now they have a permanent spot in Clerkenwell. Their experience means they serve some of the best tacos in town, but the rest of the menu is just as enticing (not to mention the mezcal list). As Marina O'Loughlin says their tacos are "unspeakably delicious".
Dandy Cafe
20 Newington Green, London N16 9PU
In a nutshell: Modern cooking from two Aussies in Stoke Newington.
We reckon the cooking here is some of the best we've enjoyed in London this year and the reactions on Instagram at least seem to concur. "Some fascinating flavour combos at play," says food writer Ed Smith of Rocket and Squash while Instagrammer Felicity Spector loved the "insanely good Parmesan custard" that came with the asparagus.
Find out more about Dandy Cafe
Duck & Waffle Local
52 Haymarket, London SW1Y 4RP
In a nutshell: Duck and Waffle comes down to earth
David Ellis in the Standard wasn't sure about the ordering lark, but decided that in comparison to the original "the food and drink has more character here. The service is friendlier." London on the Inside said "the duck jam donut with orange glaze is an absolute belter" and food writer Sabrina Ghayour said they "were doing great things" having tried the Duck Merguez wrap, Duck burger and carrot dishes."
Find out more about Duck and Waffle Local
Our Duck and Waffle Local Test Drive
Farang
72 Highbury Park, Highbury East, London N5 2XE
In a nutshell: Top Thai food in Highbury
Ex-Smoking Goat chef Seb Holmes has taken over his stepfather's old school trattoria in the heart of Highbury - and the juxtaposition of all those chequered tablecloths with such cutting edge Thai food is delighting the critics. Grace Dent has banned herself from the place after an outstanding bowl of coconut braised beef cheek while Giles Coren found it to be an "Old man's restaurant serving young man's food."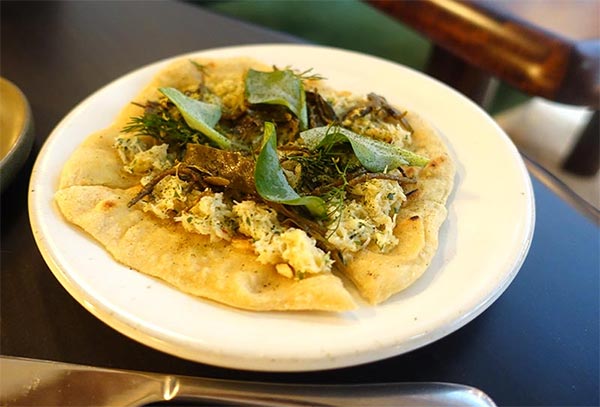 Henrietta
14-15 Henrietta St, London WC2E 8QH
In a nutshell: Ollie Dabbous meets the ECC
With Dabbous behind him (and more to come) the latest from Ollie Dabbous is in the shape of his team up with the Experiemental Group (who also run the Experimental Cocktail Club) in their new Henrietta Hotel. It; looks like being an instant hit right out of the gate with an early rave from Fay Maschler who says "The menu, under the control of Rob Tecwyn, formerly head chef at Dabbous, is, you could say, an ode to joy."
Kricket
12 Denman Street, Soho, London W1D 7HH
In a nutshell: Brixton Indian small plates goes central
The original Kricket (a now-closed tiny spot in Pop Brixton) won itself a very devoted following since opening, gaining raves from punters and reviewers alike. Now they've gone central, landing a prime spot in Soho - with a bigger kitchen that lets them expand the menu. It's primarily a no-booking counter restaurant (expect a wait) but you will be able to book spots for four or more downstairs. Fans of the original will be very happy and City AM says "if we're not talking about it as one of the restaurants of the year come December, I'll be gob-smacked."
Lorne
76 Wilton Road, London SW1V 1DE
In a nutshell: Wine and seasonal food in Victoria
Marina O'Loughlin's a fan of this new Victoria neighbourhood spot, reserving particular praise for their beef short rib which she describes as "the cure to whatever ails you, comfort and contentment on the plate." She also singles out front of house's Katie Exton as a "dream hostess". Harper's Bazaar recommend you "Come with a friend you've been meaning to catch up with to make the most of the leisurely, friendly atmosphere."
Madame D
76 Commercial Street, London E1 6LY
In a nutshell: The people behind Gunpowder go Himalayan
This is the next restaurant from the people behind Gunpowder, a very popular City Indian spot. This sees them taking their inspiration from Himalayan cooking, and cranking up the heat a little too. It's a small spot, but you can wait with drinks in the bar downstairs until a table becomes free.
Find out more about Madame D's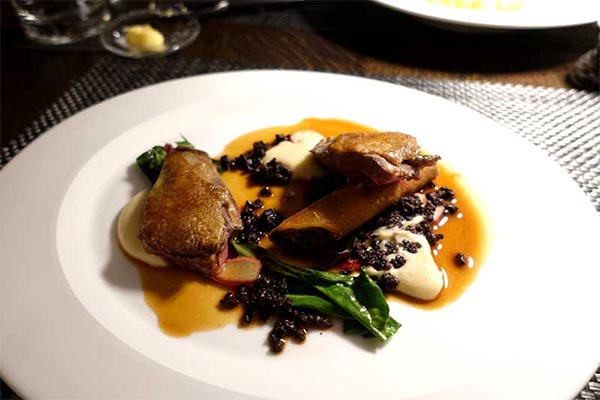 Mere
74 Charlotte Street, London W1T 4QH
In a nutshell: Monica Galetti's Fitzrovian gaff
Monica Galetti has many a fan from both MasterChef and other BBC shows, and just as many from her time at Le Gavroche. This sees her setting up her own spot in Fitzrorvia together with her sommelier husband David Galetti who has a strong hand on the wine. And Nick Curtis in the Standard said "The rhubarb and crème fraîche dessert, which we watched with envy land on a neighbouring table, has already been touted on Twitter as London's prettiest desert.".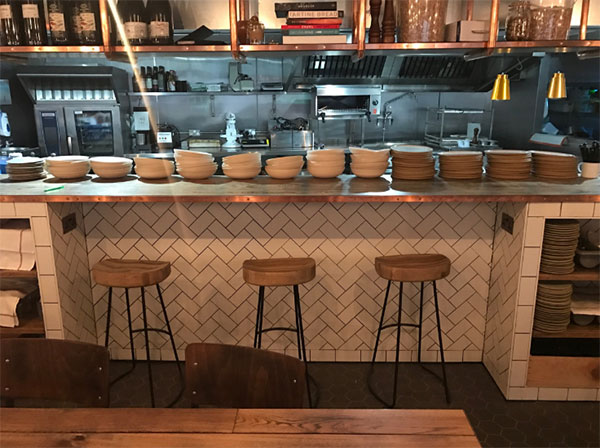 The Other Naughty Piglet
The Other Palace theatre, 12 Palace St, Westminster, London, SW1E 5JA
In a nutshell: Naughty Piglets goes to the theatre
The original Naughty Piglets in Brixton was one of those neighbourhood restaurants that punched significantly above its weight, winning plaudits far and wild. And it also attracted the attention of Andrew Lloyd Webber who has brought them to his new theatre in Victoria - The Other Place. Expect the usual excellent small plates and a particular focus on their wine list. As Fay Maschler's dining partner said ""One of the most agreeable and delicious joints you have taken me to in our 40 years of eating out.""
Find out more about The Other Naughty Piglet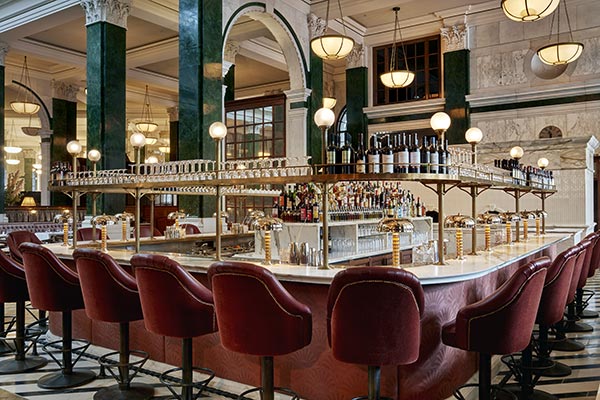 The Ned
27 Poultry, London EC2R 8AJ
In a nutshell: Soho House's uber hotel in the City
It would appear that, from looking at The Ned, Soho House don't do things by halves. From the rooftop pool to the bar that's in a bank vault, it's one of London's most impressive openings in years. And that's before we get to the food, with eight new restaurants opening in the hotel. With everything from Cecconi's City to Jewish deli Zobler's, a grill room and more there's almost too much choice. This will be THE place to go over the next few months.
Read our Test Drive of The Ned
NEW: Neo Bistro
11 Woodstock Street, Mayfair, W1C
In a nutshell: East London style seasonal food in the West End
Ben Norum in the Standard praises the "renegade pairings" of this new restaurant just off Oxford Street. "best-in-show is the marriage between lamb and eel," he decares - "a rich and earthy symphony of the sort that Beethoven would be proud." City AM reviewer Melissa York thinks the "food so intriguing, you'll be discussing it long after you've left."
Find out more about Neo Bistro
Read our Test Drive of Neo Bistro
NEW: Pique Nique
32 Tanner St, London SE1 3LD
In a nutshell: Casse Croute does French chicken
The new rotisserie chicken place from the folk behind Bermondsey's Casse Crout pleased Fay Maschler who found the chickens "helpfully sliced, drenched in jus and served with a frilly green salad". As for the chocolate Fondant, the Financial Times critic Tim Hayward says: "I really hope I live to well over a hundred because it's the only way I'll ever get even the faintest chance of eating a better dessert than this." Wow - high praise indeed.
Find out more about Pique Nique
Radici
30 Almeida St, London N1 1AD
In a nutshell: Francesco Mazzei's Italian in Islington
Already popular from his Mayfair spot Sartoria, this restaurant sees top Italian chef Francesco Mazzei take over the spot that used to be Almeida. It's more keenly priced than the Mayfair restaurant and it's gained plaudits from Giles Coren and Jay Rayner. The latter says "If you do not order Mazzei's zucchini fritti, exploding from their pot like some desert grass that's bolted, you are an idiot."
Rick Stein Barnes
Tideway Yard, 125 Mortlake High St, London SW14 8SN
In a nutshell: Rick Stein comes to London
It's early days on as far as Rick Stein's new and eagerly awaited London restaurant is concerned, but his new riverside spot in Barnes is already packed out. Expect some of the best seafood in town and chef and author Gizzi Erskine says she had "a TERRIFIC lunch en famiglia" there recently.
Find out more about Rick Stein Barnes 
Western's Laundry
34 Drayton Park, London N5 1PB
In a nutshell: Follow-up Highbury spot from the people behind Primeur.
It's clear we loved Westerns Laundry, but what did everyone else think of this rather beautiful new restaurant tucked away off Holloway Road? US site Infatuation declared it somwhere to go "when you want to want something cool, but want to keep it a little low key". Food blogger and wine expert Zeren Wilson said it "hums in the evening with the same energy, joie de vivre and candlelit charm of Primeur." 
Find out more about Westerns Laundry 
Our Westerns Laundry Test Drive
NEW: Xu
30 Rupert Street, London W1D 6DL
In a nutshell: Bao does Taiwanese dining in Chinatown.
The third opening from the team behind the two Bao restaurants, Xu is "a couple of tweaks – and a pudding menu – away from being truly excellent" says Matthew Bayley in The Telegraph. He reserves particular praise for the cuttlefish toast - "Imagine the world's greatest prawn toast." It gets 5 stars from Time Out where Tania Ballantine says "Everything I ate was terrific". This view was echoed by blogger The Picky Glutten who said: "There are very few other restaurants in London I'd rather eat at. It's as simple as that."
Ones to watch...
There are always a few just-opened restaurants that aren't quite ready for the list - but worth keeping an eye on...
Nobu Shoreditch - it's the first London Nobu for quite some time - AND there's a hotel attached.
Darjeeling Express - Asma Khan's much loved Indian sharing doof comes to Carnaby.
Red Rooster - The original in Harlem is one of the top spots in New York, so this just-opened Shoreditch restaurant should be a big deal.
Piebury Corner - this is the second pie shop from them in a bigger site just round the corner from King's Cross station. Head here for some of the best pies in town.
Where's Hot, mapped.
Here's how the Hot Dinners "Where's Hot" restaurants are spread across town.