The restaurant scene in London has never been hotter. Big name chefs and restaurants from all over the world have their eyes on us, new trends are popping up all the time and areas previously devoid of decent food are becoming hot culinary destinations.
We update this list regularly with the restaurants causing the biggest stir in town - the ones which reviewers are thrilled about, where tables are like gold dust or places that are just serving the most interesting and inventive food in town right now. We know there are plenty of great classic restaurants (and we're covering them in our Top 40 - London's Best Restaurants feature) but these are the hottest, in alphabetical order....
Bang Bang Oriental
399 Edgware Rd, London NW9 0AS
In a nutshell: Chinatown goes north and inside
We'd seen a fair few examples of established restaurants gathering together in upmarket food halls in the States - but this was the first time in London. Essentially, some of the great Oriental restaurants in London have gathered together in Colindale to provide a truly unique experience in town. It's VERY popular, and as Jay Rayner says "The regional fracturing of Chinese food in the UK really is a thrilling development. Here, it's all on show." Expect it to be pretty busy at the weekends.
Find out more about Bang Bang Oriental
Our Bang Bang Oriental Test Drive
CHICK'N
134 Baker Street, London W1U 6SH
In a nutshell: Chick n Sours go fast food
It was always likely that a more fast-food variant of Chick N Sours would be a bit of a winner, but when CHIK'N had to temporarily close because of overwhelming demand in their first week it was clear they were on to something BIG. The burgers are a big draw here, best paired with their milkshakes. And we can't wait to go back to try their breakfasts..
Claude Bosi at Bibendum
Michelin House, 81 Fulham Road, London SW3 6RD
In a nutshell: Michelin Chef goes to South Ken
The Frenchman's return to the London dining scene after the closure of Hibiscus has had a lot of love. Jay Rayner in the Observer called Bosi's new digs "a restaurant with a profound understanding of the simple virtues" but warns it's "viciously expensive". while Giles Coren praised Bibendum's food too "the supreme delicacy of some of the starters sends them straight to the top of London's fancy list."
Find out more about Claude Bosi at Bibendum
Our Claude Bosi at Bibendum Test Drive
Core by Clare Smyth
92 Kensington Park Rd, London W11 2PN
In a nutshell: Gordon Ramsay alumnus goes it alone
While at Gordon Ramsay's flagship restaurant, Clare Smyth retained their three stars for years and established herself as one of the greatest chefs in the country. So it's no surprise that her first restaurant is proving a big success, with booking lines already clogged up and reservations apparently not to be had for months..
Find out more about Core by Clare Smyth
Darjeeling Express
Top Floor, Kingly Court, Carnaby, London W1B 5PW
In a nutshell: Asma Khan's supperclub goes permanent
Previously existing as a supperclub and as residencies, Asma Khan's Darjeeling Express picked up many a fan along the way - and she's been described by Grace Dent in a recent rave review as "a force of nature: bold, funny, talented, philanthropic and unstoppable". Eager expectations about her solo venture in Carnaby Court have proven to be well founded.
Find out more about Darjeeling Express
George and the Dragon
151 Cleveland St, Fitzrovia, London W1T 6QF
In a nutshell: Ex Truscott Arms chef lands in Fitzrovia
Aidan McGee won a dedicated following of fans after his time spent running the kitchens at the award-winning Truscott Arms and Truscott Cellar. His Sunday lunch in particular was the stuff of dreams. Now he's across town in another pub, turning pub classics on their heads. Expect an amazing weekend roast.
Find out more about George and the Dragon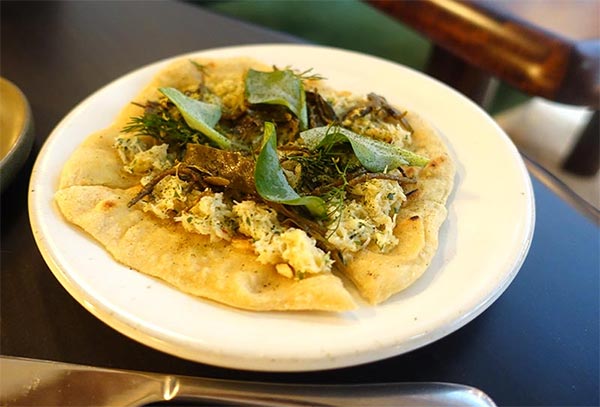 Henrietta
14-15 Henrietta St, London WC2E 8QH
In a nutshell: Ollie Dabbous meets the ECC
With Dabbous behind him (and more to come) the latest from Ollie Dabbous is in the shape of his team up with the Experiemental Group (who also run the Experimental Cocktail Club) in their new Henrietta Hotel. It; looks like being an instant hit right out of the gate with an early rave from Fay Maschler who says "The menu, under the control of Rob Tecwyn, formerly head chef at Dabbous, is, you could say, an ode to joy."
Ikoyi
1 St. James's Market, London SW1Y 4AH
In a nutshell: West African food in St James's Market
Even before Ikoyi opened, we marvelled at the plates they were previewing on Instagram. Everything looked WONDERFUL. But could the place live up to the the Insta hype? Fay Maschler certainly thinks so, saying "there is a titillating undercurrent of unfamiliarity (for some of us anyway) filtered through a high end, sometimes Nordic skill set, coupled with a sense of celebration and inclusion fostered by amiable staff. Win-win for London."
NEW: Jacob The Angel
1 16 1/2 Neal's Yard, Seven Dials, London WC2H 9DP
In a nutshell: The Barbary does a coffee house
Really, all we need to tell you about the buzz this new Covent Garden coffee shop is creating is to tell you it's the new place from siblings Layo and Zoe Paskin who are behind The Palomar and The Barbary. "Sheer heaven," said Instagrammer and all round dessert queen Felicity Spector of her preview there. Expect your Instagram feed to be full of their coconut cream pie before too long.
Find out more about Jacob The Angel
Jean Georges at the Connaught
Carlos Pl, London W1K 2AL
In a nutshell: Big-time NYC chef returns to London
When the restaurant at one of London's greatest hotels, The Connaught, announced it was revamping the restaurant, all eyes were on who would get the prime position. And they landed a big catch with Jean Georges, who is a very big deal indeed in New York. The room looks beautiful and we hear the laid back food is going down a storm with Mayfair locals and hotel guests alike.
Find out more about Jean Georges at the Connaught
Madame D
76 Commercial Street, London E1 6LY
In a nutshell: The people behind Gunpowder go Himalayan
This is the next restaurant from the people behind Gunpowder, a very popular City Indian spot. This sees them taking their inspiration from Himalayan cooking, and cranking up the heat a little too. It's a small spot, but you can wait with drinks in the bar downstairs until a table becomes free.
Find out more about Madame D's
Magpie
10 Heddon Street, London W1B 4BX
In a nutshell: Trolley service meets British small plates
The final opening of Magpie in the West End (it was due to open last year) had a lot of hype to live up. Pidgin is still serving up a storm in Hackney but could that vibe survive a move to the centre of town.We're here to tell you it can and does.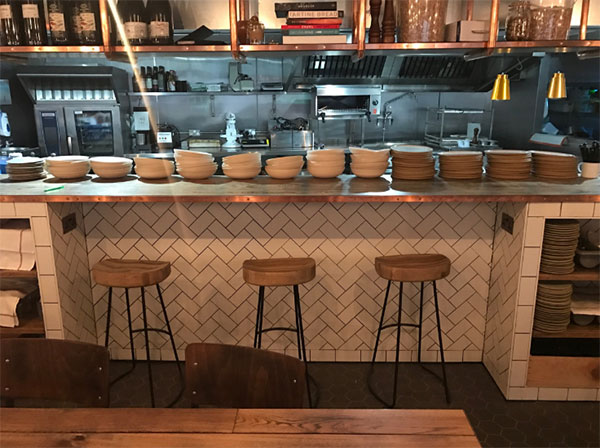 The Other Naughty Piglet
The Other Palace theatre, 12 Palace St, Westminster, London, SW1E 5JA
In a nutshell: Naughty Piglets goes to the theatre
The original Naughty Piglets in Brixton was one of those neighbourhood restaurants that punched significantly above its weight, winning plaudits far and wild. And it also attracted the attention of Andrew Lloyd Webber who has brought them to his new theatre in Victoria - The Other Place. Expect the usual excellent small plates and a particular focus on their wine list. As Fay Maschler's dining partner said ""One of the most agreeable and delicious joints you have taken me to in our 40 years of eating out.""
Find out more about The Other Naughty Piglet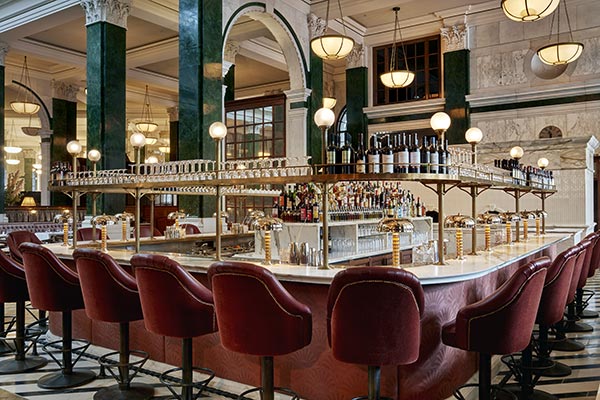 The Ned
27 Poultry, London EC2R 8AJ
In a nutshell: Soho House's uber hotel in the City
It would appear that, from looking at The Ned, Soho House don't do things by halves. From the rooftop pool to the bar that's in a bank vault, it's one of London's most impressive openings in years. And that's before we get to the food, with eight new restaurants opening in the hotel. With everything from Cecconi's City to Jewish deli Zobler's, a grill room and more there's almost too much choice. This will be THE place to go over the next few months.
Read our Test Drive of The Ned
Neo Bistro
11 Woodstock Street, Mayfair, W1C
In a nutshell: East London style seasonal food in the West End
Ben Norum in the Standard praises the "renegade pairings" of this new restaurant just off Oxford Street. "best-in-show is the marriage between lamb and eel," he decares - "a rich and earthy symphony of the sort that Beethoven would be proud." City AM reviewer Melissa York thinks the "food so intriguing, you'll be discussing it long after you've left."
Find out more about Neo Bistro
Read our Test Drive of Neo Bistro
Nobu Shoreditch
10-50 Willow St, London EC2A 4BH
In a nutshell: Nobu extends its brand to East London
When we visited Nobu Shoreditch recently, very soon after opening, our immediate thought was - "this is VERY busy" with the latest Nobu picking up a large clientele in very quick fashion. Grace Dent said "I loved Nobu Shoreditch, loved the sleek opulence, the chipper serving staff, the open kitchen full of hot chefs and the DJ playing Nineties club classics... But in all fairness I'd have been better fed if I'd been kidnapped." So yes, it IS very pricey but you'll be in for a treat if you CAN afford it. Better still, get someone else to take you.
Find out more about Nobu Shoreditch
Read our Test Drive of Nobu Shoreditch
Pique Nique
32 Tanner St, London SE1 3LD
In a nutshell: Casse Croute does French chicken
The new rotisserie chicken place from the folk behind Bermondsey's Casse Crout pleased Fay Maschler who found the chickens "helpfully sliced, drenched in jus and served with a frilly green salad". As for the chocolate Fondant, the Financial Times critic Tim Hayward says: "I really hope I live to well over a hundred because it's the only way I'll ever get even the faintest chance of eating a better dessert than this." Wow - high praise indeed.
Find out more about Pique Nique
NEW: Sibarita
7 Maiden Lane, London WC2E 7NA
In a nutshell: Cheese, charcuterie, wine and tapas from Spain and Catalunya in a laid back setting.
Sometime dining companion of Fay Maschler, chef Victor Garvey is always one to watch and his latest restaurant opening in Covent Garden confirmed Grace Dent's opinion that he opens "genuinely, God's-honest-relaxed places with fabulous wine and tapas worth trekking across town for". Also in the Standard David Ellis called it "very likely the best restaurant I've been to this year."
Read our Test Drive of Sibarita
Western's Laundry
34 Drayton Park, London N5 1PB
In a nutshell: Follow-up Highbury spot from the people behind Primeur.
It's clear we loved Westerns Laundry, but what did everyone else think of this rather beautiful new restaurant tucked away off Holloway Road? US site Infatuation declared it somwhere to go "when you want to want something cool, but want to keep it a little low key". Food blogger and wine expert Zeren Wilson said it "hums in the evening with the same energy, joie de vivre and candlelit charm of Primeur."
Find out more about Westerns Laundry
Our Westerns Laundry Test Drive
Xu
30 Rupert Street, London W1D 6DL
In a nutshell: Bao does Taiwanese dining in Chinatown.
The third opening from the team behind the two Bao restaurants, Xu is "a couple of tweaks – and a pudding menu – away from being truly excellent" says Matthew Bayley in The Telegraph. He reserves particular praise for the cuttlefish toast - "Imagine the world's greatest prawn toast." It gets 5 stars from Time Out where Tania Ballantine says "Everything I ate was terrific". Fay was pretty light with her praise while Giles Coren was cruel to be kind but most recently Marina O'Loughlin in the Guardian turned out to be a fan,pronouncing it "quite simply gorgeous".
Ones to watch...
There are always a few just-opened restaurants that aren't quite ready for the list - but worth keeping an eye on...
Flavour Bastard - we're already starting to hear good things about this Soho restaurant with the mad name.
Cubé - we loved this Mayfair Japanese restaurant on a recent visit.
The Wigmore Tavern - quickly becoming our go-to affordable Oxford Circus hangout.
Where's Hot, mapped.
Here's how the Hot Dinners "Where's Hot" restaurants are spread across town.