Last year, in the run up to St Patrick's Day, and as second generation Irish ourselves, we thought it might be fun to highlight the creative contribution that Irish people make to London's restaurant industry. And here for its second year, are some of the leading members of The Murphia on London's food and drink scene, together with names to watch on their way up.
Dave Ahern

Chef/owner Wahleeah
Born in Cork, Dave had never worked in a kitchen before until just over four years ago when he was encouraged by Oisin Rogers to chase his dream. For his 2012 Burger Breakout popup Ahern's attention to detail was such that he was making 34 sauces from scratch in a tiny kitchen three floors above a run down boozer near Holborn. Wahleeah, his first restaurant, is now open on Fulham High Street.
Richard Corrigan

Chef/owner - Bentley's and Corrigan's
Dublin-born, but raised in Meath, Corrigan came to London as Head Chef of Irish restaurant Mulligans in Mayfair before moving on to win Michelin stars at Stephen Bull in Fulham and then in his own restaurant Lindsay House. He's now the chef/owner at Bentley's which celebrates its centenary in 2016 and also has the eponymous Corrigan's in Mayfair. Watch out for his daughter Jessica, just entering the foodie PR scene here too.
Kenneth Culhane

Head Chef - The Dysart
Originally from Lisselton, North Kerry, Roux scholar Kenneth has a wealth of experience behind him. In Ireland he worked at The Shelbourne and Patrick Guilbaud, but since then has worked with Tetsuya Wakuda in Sydney and Brett Graham at The Ledbury. For his Roux scholarship internship he worked across Jean Georges Vongerichten's restaurants in New York. Now at The Dysart in Richmond, his food won him plaudits from Marina O'Loughlin who praised the 'significant talent' in the kitchen here.
John Devitt

Owner - Koya Bar
Former city boy (and Dubliner) John learned his trade in the kitchen with Giorgio Locatelli at Zafferano and front of house at Pengelley's. He opened Koya in 2010 after being inspired by a Parisian restaurant devoted to the udon noodle, having cunningly spotted that London was undersupplied in decent noodle joints. Koya Bar followed pretty smartly after and both  developed an almost fanatical fan base. Koya closed its doors in 2015 when chef Junya Yamasaki returned to Japan, but the bar is still going strong.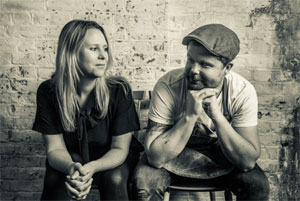 Robin and Sarah Gill

Proprietors of The Dairy Clapham and co-owners of The Manor, Clapham and Paradise Garage.
Both from Dublin, this powerhouse restaurant couple are now behind two of the best restaurants in South London not to mention one in East London. Robin earned his stripes working at La Stampa in Dublin before heading to The Oak Room under Marco Pierre White followed by an extensive period with Raymond Blanc at Le Manoir aux Quat' Saisons. Their next project? They'll be opening a pintxos style bar beside The Dairy called Counter Culture next month.
More about Paradise Garage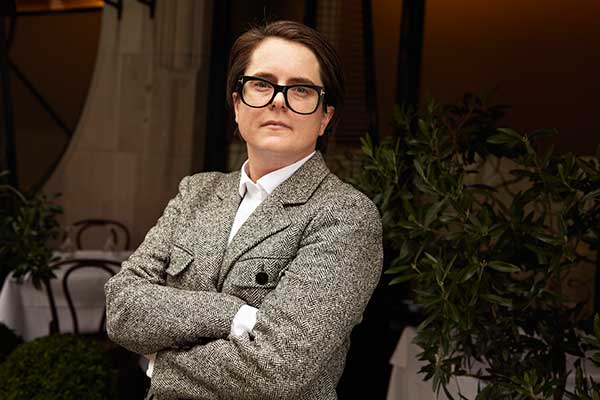 Gina Glennon

Maitre d' -  34 Mayfair
Gina, who works front of house at Caprice Holding's grill restaurant, took her first London job at J Sheekey as a waitress, staying there for eight years. She's worked her way through other restaurants in Richard Caring's company including Scott's, the Ivy and Dean Street Townhouse before being part of the opening team for 34 back in 2011. "Gina runs the room with great authority but with great charm" says one glowing TripAdvisor reviewer.
Photo credit: Code London
Paul Hannagen

MD - Cuisson
Galway boy Paul's first London job was at Gordon Ramsay Holding's Maze. From there he went on to become Head Chef of the late lamented Zucca, also finding time to work at the wine company du jour, Roberson Wine. His catering company, Cuisson looks after the likes of top end brands like Louis Vuitton and Veuve Clicquot but he's also involved in numerous popups, the newest of which, POPdown, recently took over the vaults under Waterloo station.
Anna Haugh

Consultant Chef
Born in Dublin, Anna's been  in London kitchens since 2005. She joined Gordon Ramsay Holdings working her way around the group, before opening London House for Ramsay in Battersea in 2014. Having left the restaurant at the end of 2015 she's now doing consultancy work whilst she looks out for the perfect job.
Colin Kelly

Chef/Co-owner - Picture
Kelly is from Tullamore and arrived in London in 2003 having worked in Dublin's L'Ecrivain. He worked with Anthony Demetre for 8 years ended up as head chef at Wild Honey where they were awarded a Michelin star after 6 months. Now a co-owner at Picture on Great Portland Street, which got its Bib Gourmand eight weeks after opening, he and his partners are actively looking for a second site.
Simon Lamont

New projects - Wright Bros
Dublin-born Simon has worked both front of house and in the kitchens in restaurants from Boston to Bordeaux. As one of senior managers at Wright Bros it's his job to work on new projects and right now that's oyster and shellfish classes. Back home in Ireland he's also got a TV show on the go - Lazy Chef.
Dave McCarthy

Head Chef - Scott's
From a restaurant-owning family in Midleton, County Cork, Dave moved to London when he was 22 to work at The Ivy. He stayed there for two years before moving to Harvey Nichols to work for Henry Harris as Chef de Partie. From here he moved to J Sheekey under Tim Hughes where he worked for nine years. In 2006 he was in the team that helped to relaunch Scott's and has been Head Chef here since 2009.
Aidan McGee

Head Chef - Truscott Arms
Chef Aidan McGee was born and bred in Donegal. After training in Ireland he moved to London where he worked at the Mandarin Oriental followed by time at Dinner by Heston Blumenthal and at Launceston Place. McGee's most recent project was devising the menu for the opening of the Truscott Cellar in Belsize Park last year.
Darren McHugh

GM -
The Ledbury
Dublin-born Darren worked his way up to his current position running the front of house at The Ledbury via Marcus Wareing at The Berkeley and Adam Byatt's Trinity Restaurant. What's less well known is that he also used to be an actor and you'll spot him alongside Daniel Day Lewis in both My Left Foot and In the name of the Father.
Paul McKenna

Operations Director at Des McDonald Restaurants
Born in Ireland to a family of restaurateurs, Paul started as a pot washer in the family restaurant. He moved to Seattle then London eventually opening Sushinho. In 2013 he joined the former CEO of Caprice Holdings, Des McDonald in his new company - helping Des open Holborn Dining Room, Q Grill, Fish & Chips by Des McDonald and the current Forest restaurant on the rooftop at Selfridges.
More about Des McDonald restaurants

David Moore

Founding Director - Pied à Terre and L'Autre Pied.
Having worked everywhere from The Box Tree in Ilkley to Le Manoir Aux Quat' Saisons in the run up, when Moore opened Pied à Terre in 1991 he achieved almost instant success - the restaurant won its first Michelin star 13 moths later. He's also founding partner of the London Cocktail Club and you'll probably recognise his face from TV's The Restaurant where he appeared alongside Raymond Blanc. Moore was born in Monaghan and got his first taste of the trade working in his mother's hotel.
John Nugent

CEO - Green & Fortune
Having learned his craft as MD of Corrigan Restaurants and at Searcy's, Dublin-born Nugent was clearly the right man to take over the catering at King's Place when it opened in 2008. The main restaurant The Rotunda is the key beneficiary of Nugent's company-owned farm serving up beef and lamb with impeccable farm to fork credentials.
Evin O'Riordain

Founder The Kernel Brewery
Indisputably one of the leaders of London's modern craft beer scene, Evin arrived in London in 1999 from Waterford. For years he worked at Neal's Yard Dairy before setting up his own cheese shop at Borough Market. A trip to New York inspired him to start homebrewing which led to opening his brewery in an arch at Druid Street by Maltby Street Market. Now Kernel beer is stocked in restaurants all over London from Hawksmoor to Shake Shack.
[Photo: The Evening Brews]
Darragh O'Shea

Owner O'Shea's Butchers
Darragh is the 8th generation of his family involved in the meat business, which originated in Tipperary back in 1789. Today he works with everyone from Mikael Jonsson at Hedone to Jose Pizarro supplying the best meat to the restaurant trade as well as serving up at O'Shea's counter on Druid Street by Maltby St Market at the weekend.
Oliver Peyton

Founder/Chairman Peyton and Byrne
Born in Mayo, Peyton's practically an honorary Londoner having been a restaurateur here since the early 90s, revolutionising the scene with The Atlantic in which Hot Dinners lost many an afternoon to the loose concept of the 'working' lunch. He's now founder/chairmen of Peyton and Byrne with restaurants all over the capital from St James's Park to the British Library. When you add in his starring role on The Great British Menu he's become part of the city's establishment.
Patrick Powell

Head chef - Chiltern Firehouse
Mayo-born chef Patrick worked at a number of restaurants in Ireland and Australia before arriving in London to work for Anthony Demetre at Wild Honey. From here he headed up Demetre's pop-up at Tower 42 before moving to Chiltern Firehouse. If you were really lucky you'll have caught him cooking last year for the Bloodshot supperclub at The Dairy where the Irish menu included a Murphy's ice-cream sandwich.
Oisin Rogers

Publican and restaurateur
Rogers became a legendary fixture of the London scene during his tenure at The Ship, Wandsworth. He's a "Godfather of the Irish Hospitality fraternity" we were told. He's the occasional dining companion of Standard critic Fay Maschler and also a partner in the growing Dip & Flip chain in South London. Sligo-born Osh would be Kevin Bacon in the London/Irish version of the Six Degrees game. 
Rory Shannon

Head Chef The Canton Arms
Rory hails from Dublin where his father owns the well-respected Bistro One in Foxrock village, Dublin. Having moved here five years ago, Rory worked his way through numerous London kitchens finally settling at the Canton in Stockwell. "Trish Hilferty (owner) is my mentor," he says, "and although I look after her kitchen she is still very active with the team within the kitchen and we strive to portray her core ethos on the plate."
Niamh Shields

Food Blogger - Eat like a girl
Niamh seems to know everyone of note on the food and drink scene in London. A Londoner for 15 years, she hails originally from Dungarvan in Co Waterford but you'll be hard-pressed to catch her in London. She's a total globetrotter, always on the go in search of new food inspiration. Niamh is working on her second book, Project Bacon, which will be out soon (Bacon eclairs! - what more do you need to know?).
Barry Wallace & Simon Whiteside

Owners -  Hook
Simon and Barry grew up on the same road in Dublin but did not meet until they were in London. Their first venture was a market stall in Dublin selling Mackerel Fish & Chips. Six months later they ended up with their first restaurant in Brussels which turned out to be huge success and from there opened Hook Camden Town selling sustainable fish and chips. They recently opened south of the river at Pop Brixton and have plans to expand throughout the UK.
Ones to watch:
Jordan Bourke
Irish-born Jordan trained at the Ballymaloe Cookery School before working with Skye Gyngell for years at Petersham Nurseries Restaurant. He and his wife Regina Pyo have just published Our Korean Kitchen. He's promising various supper clubs and pop up restaurants in London in 2016.
Laoise Casey

Laoise Casey has made a name for herself with her lunch box column for the Evening Standard. Right now she's working as a chef at Robin Gill's Paradise Garage. This summer she'll be running a cookery class at her old cookery school Leiths in July on lunch recipes.
Niall Davidson

28 year old chef Niall may have been born in Scotland, but having lived in Derry since he was nine he's an honorary Irishman. Brought up on his grandmother's farm, he came to London as a butcher at the age of 19, working for Jack O'Shea at Harrods. Having caught the cooking bug, his next job was at St John Bread & Wine, followed by a stint with Brad McDonald at Lockhart, as senior sous under Nuno at the Chiltern Firehouse and then at In de Wulf in Belgium. His latest project is a new restaurant in the London Bridge area which sounds VERY interesting indeed.
Garrett FitzGerald
Bray boy Garrett founded Butchies in 2013 with the intention of creating the ultimate fried chicken sandwich for London's street food scene. He's now cooking up a storming business at Broadway Market (and has cooked for the cast and crew of The Force Awakens!). Next up is a permanent restaurant in Central London
Evan O'Ceallaigh
Evan is just 20 but has already managed to secure himself a place in the kitchen at Pierre Koffmann's restaurant at The Berkeley. There was great buzz about his popup at Irish chef's symposium Food on the Edge last year.
This is a list of all the interesting Irish folk we know about, but that said we're almost certain to have missed some out. So if you think someone should be on the list, email us here and we'll see about adding them before we hit St Patrick's Day.